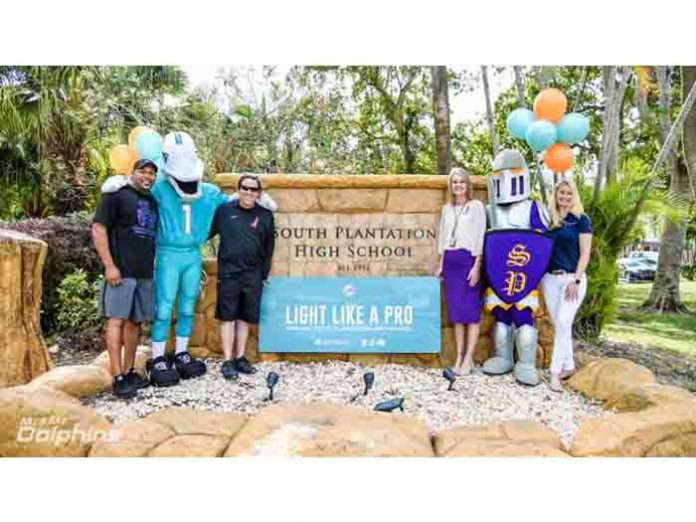 Eaton and the Miami Dolphins are set to award a free Ephesus LED Sports Lighting System to South Plantation High School's Paladin Stadium
The Miami Dolphins and power management company Eaton has announced that South Plantation High School has been selected as the winner of the joint community programming initiative – "Light Like the Pros."
As a result, South Plantation High School's Paladin Stadium will receive a free state-of-the-art Ephesus LED sports lighting and control system valued at more than $100,000.
"Congratulations to South Plantation High School for winning the 'Light Like the Pros' program," said Miami Dolphins Senior Vice President of Communications and Community Affairs Jason Jenkins. "Eaton's Ephesus LED Sports Lighting System will provide an excellent solution to better illuminate Paladin Stadium, extending the opportunity for South Plantation's athletes and the community to practice and compete without limitations."
Paladin Stadium also serves as the home field for Stranahan High School in Ft. Lauderdale, a school without a stadium, and as a result, the lights serve double-duty during the football season. This high-usage has resulted in numerous fixtures being out and leaving dark spots on the playing surface. Due to its antiquated scheduling system and numerous Florida weather delays, the lights have gone out several times in the middle of games, requiring an additional 20-minute delay to cool down and restrike the metal halide lights. This has resulted in South Plantation being forced to over-schedule the lights, adding stress on the system and wasting energy. In contrast, Eaton's Ephesus LED sports lighting system can be monitored remotely, programmed from an app and instantly turned on and off with the push of a button.
"We are excited to provide the players and fans at Paladin Stadium with an Ephesus LED sports lighting system, like the one at Hard Rock Stadium, in time for the 2018 fall sports season," said Mike Lorenz, president, Eaton's Ephesus Lighting business. "We hope that by showcasing our innovative technology at Paladin Stadium, the entire South Florida sports community will see the many benefits of LED sports lighting, including superior control and dramatic energy savings."