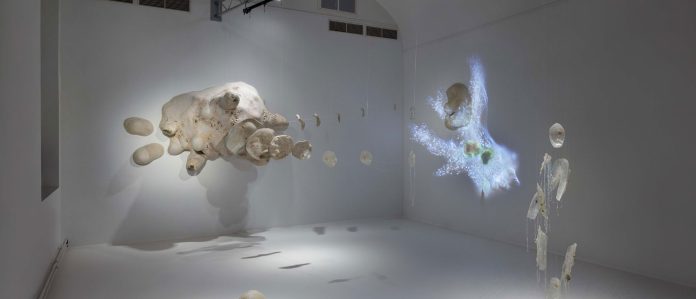 In her most recent work, artist Sonja Bäumel aims to stimulate the cultural imagination by exploring the vital relationships and interconnections between human bodies and microorganisms.
This performed and multi-sensory installation seeks to alter our perception of the human body's boundaries and invites visitors to embody the human in a more-than-human world.
The Mirror Head by Dynamic Projection Institute is used as part of the creative process to project a real amoeba that overlays the installation and travels in the environment.
The installation ENTANGLED RELATIONS—ANIMATED BODIES, which is currently being shown in the MAK – Museum of Applied Arts, Vienna, was the official Austrian contribution to the 23rd Triennale di Milano International Exhibition 2022.
Bäumel wanted to take other risks and thereby challenge herself by integrating yet unused materials and techniques to create a mysterious and imaginary world and to conceptually oppose the seeming contradiction of life.
With projections provided by a single Panasonic PT-RCQ10 projector, the movement of the projections is pre-programmed and synchronised to perfectly fit the visual, the aural and tactile experience.
In combination as an overlay of the physical sculptures, a projection of a living amoeba, moves slowly from one side of the room to the other by using the Mirror Head.
"From a practical point of view, the Mirror Head allowed us in the exhibition room to use a single projector, as traditionally you would need several projectors to cover such a wide projection area," said Bäumel.
The installation can be visited in the MAK – Museum of Applied Arts in Vienna until the 30th of April 2023.