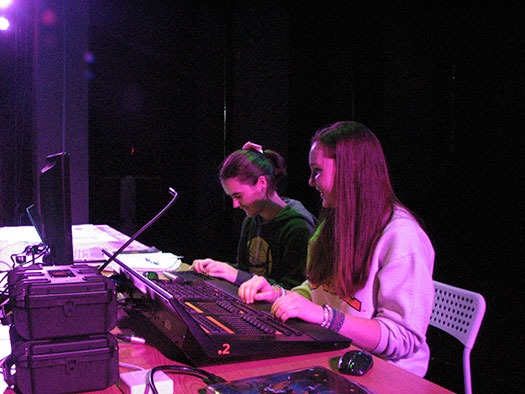 When a magnet high schoo, for the performing arts in the San Francisco Bay area, needed to upgrade its theatre, it called on DSC Design of Novato, California to design an upgraded lighting system. DSC Design specified an all-LED lighting design and a new dot2 XL-F lighting console from MA Lighting. A.C.T Lighting, is the exclusive distributor of MA Lighting products in North America.
DSC Design, handled design and technical management for the high school's theatre upgrade, as well as programming classes for students and faculty.  The theater is a key component in students' performing arts studies: It is used for dramatic and musical theatre productions, dance, the orchestra and jazz band.
Tim hails the dot2 line for its ability to support "All the latest fixtures on the market" while offering a "Straightforward programming syntax that enables students to learn quickly." He selected the dot2 XL-F model for its increased capacity in the busy theatre. "The students are able to write cues, submasters, have direct access to stage washes and specials and even run the house lights," he said.
The console is housed in a control booth, but Tim noted that, "We're adding a DMX connection at the stage location for programming and teaching."
Tim took advantage of MA's 3D visualiser to get the students ready for the upgrade.  "I made a 3D CAD drawing of the theater space and brought it into MA 3D," he said. "That way the kids are able to work offline, at their own pace, from home or in the theatre.  It is a great learning tool for them."
The theatre upgrade gives students access to more real-world equipment. "They've gone from basic white front lighting to color changing, moving lights that pan and tilt – they now have colour for back and front lighting," Tim explained. "The dot2 console is another huge step up. Students learn the basic concepts of programming static and moving LED fixtures.  And since grandMA2 is the industry standard in practically every segment of the industry, learning dot2 is a tremendous asset to the students in terms of skill sets."
Tim said that students who "have grown up with computers and technology," take to dot2 "like a fish to water.  They experiment with it, play with it.  They intuitively pick it up. It's a real joy to watch them.  They pick up certain design concepts and best practices I wish I learned at that age." Between the intuitive interface and smart defaults such as 'relative' for movement, and starting fixtures in the centre of their zoom range; they were able to grasp the ore concepts quickly and move right on to the 'fun stuff' like bally-hoos and colour chases. The students were able to learn all the basics in a couple hours: presets, cues, editing.  By the third hour they were on to effects, chases and complex concepts.