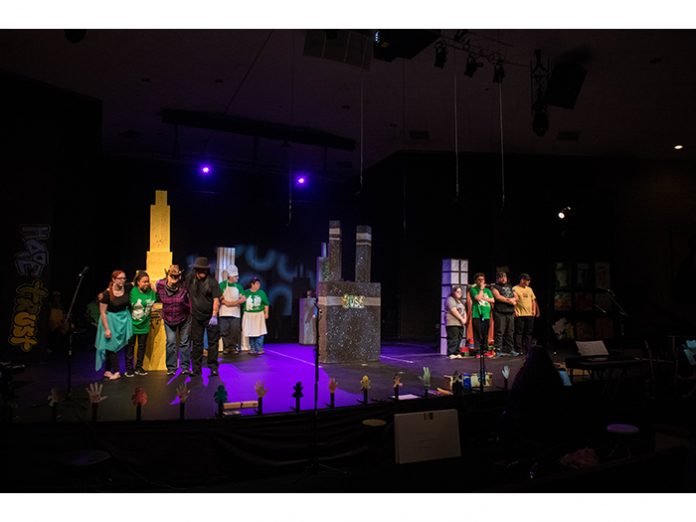 Miles Fulwider was asked to develop a new strategy to improve the audio quality of the Jesters production at the University of Saint Francis, as sound had been an issue in the past.
"With this particular production we had a unique situation because the entire cast have mild to severe developmental disabilities," Miles explained. "To prevent any of the performers from getting too warm – something that could invoked a seizure – we had to make sure the venue was kept very cool. This meant having all the air handling units running, which in turn created a lot of noise.
Normally headset or lavalier microphones would have been the answer because they are very directional, but with these performers anything bodyworn was out of the question. Instead we had to find a solution that could be flown to capture the stage performance but was also capable of maintaining strong off-axis rejection to reduce the noise level and allow us to use adequate microphone amplification before potential feedback."
Speech intelligibility was also a challenge, so Fulwider needed microphones that had very clear and flat frequency responses, allowing the engineers to "ride faders" and follow the performers on stage without loss of intelligibility, frequency masking or other anomalies that could be encountered.
"We needed to find a solution that would work within our budget, but also allow us to remedy the various challenges we were facing," he explained. "As a Tonmeister, Producer, Engineer and classically trained Musician, I have used DPA microphones on many occasions and across many different musical styles and genres. DPA products always make life easier so I contacted the company to see what kind of solution might exist for us."
Gabriel Antonini, National Sales Support and Business Development Manager for DPA Microphones in the USA, recommended a system that comprised two d:dicate 4011 Cardioid Microphones mounted at the lip of the stage on DPA TB4000 table bases with CSM4000 shock mounts, two hand-held d:facto Vocal Microphones, a d:vote 4099 Instrument Microphone and six d:sign 4098 Supercardioid Microphones, which were suspended above the stage. These were used to amplify the actor's voices, musical instruments and the choir's vocals, as well as capture overall stage coverage.
"After visiting the venue to get a first-hand account of the environment and challenges, Gabriel was able to make very specific recommendations that improved our event," Miles said. "We flew several microphones to capture the performance over the stage and with a few focal-performance microphones we substantially increased intelligibility and performance volume – something we have never been able to do before. In addition, we were able to set the system up to be modular, so we can repurpose it for other performances and other theatre spaces we have on campus."
Sponsored by the University of Saint Francis since its founding in 1978, Jesters provides 20 weeks of customised, arts education activities including structured movement/dance, music (instrumental and voice), theatre, animation, storytelling and visual arts every year from September to March. 2018's activities culminated in the show Heads or Tails, Hands and Hearts, which was performed across two nights by a cast of 80+ people at the University's North Campus Auditorium/Theatre. The show explored the idea of community and told the story of everyday characters who felt threatened by Godzilla and other monsters created by Jester participants.
Jesters' mission is to engage individuals with disabilities in the creative arts to enhance their quality of life. The vision is to develop self-expression, self-esteem, socialization and other life skills while providing learning opportunities to the USF and at-large communities. Individuals taking part in Jesters range in age from eight to senior citizen and have a variety of special needs.
Miles Fulwider is Chair of USF's Music Department and Programme Director and Assistant Professor for the University's Music Technology programme. In addition to his work in education, he has produced and engineered many GRAMMY and Emmy Award winning artists and chart-topping and award-winning albums. His credits include Wynton Marsalis, Willie Nelson, Norah Jones, Chick Corea, Joe Locke, Grinder Blues, dUg Pinnick (King's X), the Bihlman Brothers, Jon Batiste & Stay Human, Rob Mathes, Hamilton de Holanda, Lawrence Brownlee, Damien Sneed, The Lincoln Symphony Orchestra, Jazz at Lincoln Center Orchestra, XM/Sirius Satellite Radio, and several film scores including scores for the American documentary film maker Ken Burns.
"I have toured regionally and nationally with various orchestra, rock, country and blues bands, and produced numerous sessions across a wide range of musical genres" he says. "DPA microphones have featured in many of these and have always been sonically accurate and reliable. Since installing USF's new DPA microphone system, we have dramatically improved the sound quality of all on-campus performances. This, in turn, has improved the actors' experience and increased the enjoyment of the audiences at all the shows we stage."