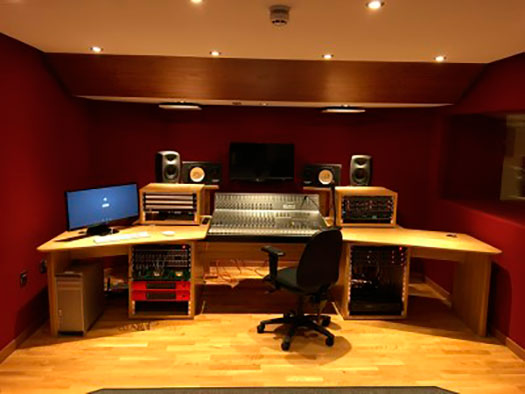 One of each Audient console is installed in the brand new 24 studio audio complex at Northbrook College which was launched at the beginning of this academic year. The ASP4816 and its big brother, Audient's flagship ASP8024 have proved their worth with students and teaching staff alike, according to Curriculum Leader in Music for Creative Industries at the college, Mick Feltham. "Students really love the uncluttered, logical format – identifying signal paths and mixer sections is much easier on these desks. It's great to have both the ASP4816 and ASP8024 because it allows them to progress to larger format consoles without getting overwhelmed."
Designed and built by The Studio People, the Northbrook Audio Complex combines multiple analogue tie lines and full digital connectivity to ensure that students get a solid understanding of all aspects of state of the art audio recording. "We believe that a pristine signal path is the foundation of all great recordings – everything starts and ends as an analogue signal, regardless of where it goes in between. Students have to understand that fundamental concept and pay attention to gain structures and audio fidelity at all times," explained Mick. This is embedded in the central concept of the Northbrook College Music Department: "Traditional Skills Future Proofed".
Installed in Control Rooms A & B, the desks are used in both further education (16-18 year olds) and higher education (18 plus) and right across all levels for tracking and mixdown. "These desks can be used at entry level and all the way up to advanced production techniques.
We like to introduce students to the concept of multitrack recording using the ASP4816. They can then progress onto our ASP8024, TL Audio VTC and SSL AWS 900+." It's worth noting that Northbrook has the highest specification studios ever built in a mixed economy college. "Ten pre-production booths, three post-production studios, four control rooms and five live rooms, all of which have been designed and built for world class acoustic performance with full analogue and digital audio networking," said Mick, with justifiable pride.
When it came to choosing kit he didn't cut corners, thinking through the benefits of each piece of gear thoroughly. Of the Audient desks, he said, "Firstly the design layout is clear, all buttons and faders are well marked and intuitive and the overall feel is solid and well-engineered.
Add to that the flexibility in the routing design and you have a really well thought out, great sounding console.  What really sealed the deal for us was the passion and support we got from Chris and Simon, we certainly feel that Audient are true industry partners, a company we can rely on."
"To be a professional you have to train like a professional in a professional environment and it is our mission to provide the very best in music industry education at all levels and in all disciplines; Performance, Production, Media Composition and Business and Management," concluded Mick. Audient is pretty sure that the 350 students that will be getting their hands on these consoles this year won't be disappointed, either.