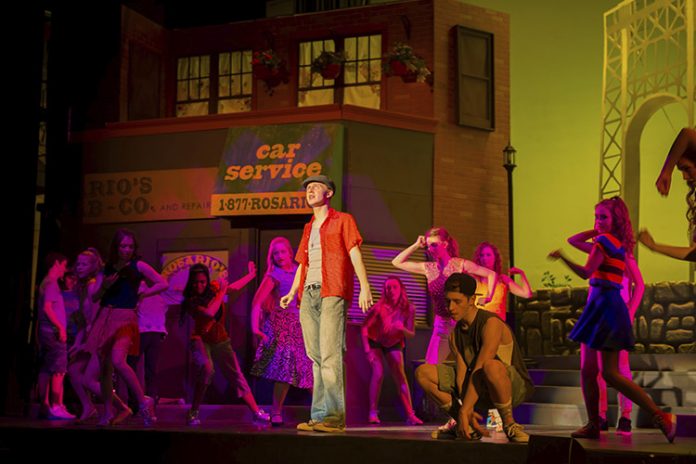 Years before he wrote Hamilton, Lin-Manuel Miranda created In The Heights, a wildly exuberant musical swirling with vibrant images of Caribbean immigrant life in New York. It is the kind of production that calls for richly colored lighting, which is precisely what the Dominican High School drama department was able to provide when it performed the Tony Award winning show, thanks to its recent LED upgrade with CHAUVET Professional fixtures supplied by Clearwing Productions of Milwaukee.
"We felt like kids in a candy store when we got the CHAUVET Professional Ovation and COLORado fixtures," said Bryn Van Beek, Technical Director and Lighting Designer at the school's 1,200 seat James & Virginia Wheeler Auditorium. "The fixtures opened a new world for us. Before we added these LED fixtures with their colour mixing capabilities, we were limited to one or two color washes – never the full stage.  Now, when we have a production like In The Heights, we're able to bring out its full imagery with colour.
The Dominican theatre department's new colour rendering capabilities are the result of the  28 Ovation E-910FC RGBA-Lime ellipsoidals with 19⁰ lenses, eight Ovation B-2805FC batten-style RGBA-Lime wash fixtures, and 22 COLORado 1 Solo RGBW wash lights that were added to the school's rig in early 2017.
Bryn uses the Ovation ellipsoidal units as onstage and FOH side lights, valuing their throw distance in addition to their colour mixing.  Cyc lighting is provided by the new Ovation battens. The COLORado washes have replaced the old Fresnel top and back lights in the school's rig, and do added duty performing as strobe and effect lights for dance reviews.
"The new lights enhance every show we do with their realistic colours," said Bryn. "However, this is only the beginning. There are many features beyond color that are really making a difference. For example, the brightness of these lights is amazing. Then there's their versatility; they perform so many different functions. Plus they have so many performance features like the ability to control different cells in the battens. The transition to LED has been a great experience for our school."
Helping to make this transition go even more smoothly have been the Synapse 4 intelligent relay packs from CHAUVET Professional that were added to the school's rig with the new lights. Controlling the power sent to individual fixtures, this product can be used to de-power entire sections of a rig. This not only prolongs the lifespan of the school's lighting fixtures, it also reduces power consumption. "The Synapse is saving us money and minimizing our cable runs," said Bryn. "It helps us manage our fixtures."
Learning how to run and control lighting fixtures is an integral part of the lesson plan at Dominican High School. "Rather than hiring adults to run the technical elements of our shows, we have the students handle these functions," said Bryn. "I oversee the tech students and train them in their roles, but the students themselves run sound, lights, video, scene changes, flies, special effects, stage management, construction and scenic painting."
Dominican High School's educational approach in general is reaping benefits in the theatre department. Founded in 1956, the school has been producing theatrical shows since 1960. During that time it has earned numerous honors, most recently a 2017 Outstanding Musical Award for In The Heights.
The school's success in theatre is a team effort according to Bryn. "Our theatre director Jeff Schaetzke has been at the school 20 years," she said. "We also get a great deal of support from parents and alumni. Mark Herzfeld, has had six children attend Dominican and five of them have been on our stage crew. He was very helpful with wiring our new system. Andy Selep, Jim Lambrecht, Steve St. Onged, and Dick Roesler are other parents and former students who helped out."
As Bryn's comments illustrate, there is a rich tradition of supporting theatre at Dominican High School. The school's five or six productions a year invariably sell out its spacious auditorium. Now that this tradition has been combined with LED technology, its brightest (and most colourful) days are still ahead.