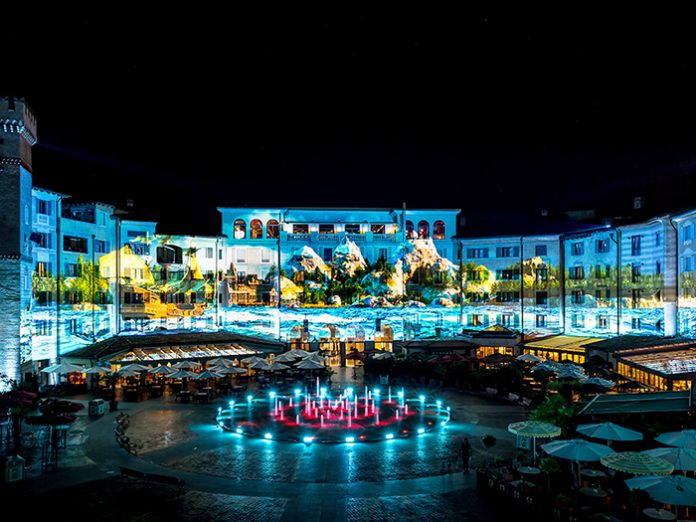 Europa Park is the largest theme park in Germany, welcoming up to 60,000 visitors per day to enjoy its 13 roller coasters and other popular attractions across 18 themed areas.

In September 2017 construction began for an exciting new section of the park; Rulantica will be a 450,000 square meter water-themed extension to the resort, with a Nordic feel and 25 water-based attractions.

To generate anticipation, Europa-Park created a preview centre for the attraction, and turned to Bright!, the creative event solutions company, to design a highly visual show for that would tell the story of the Journey to Rulantica. As visitors eagerly await the opening of Rulantica, the incredible show gives them a tantalising taste of what is in store.

The Bright! team, led by MD and Creative Director Michael Giegerich, created the show with disguise projection mapping and VR solutions at the heart of the creative process.

"disguise is always our choice," said Michael. "We decided to use two 4x4pros and a 4x2pro Master. The complex projection setup was very easy to handle within thanks to disguise's QuickCal."

The Bright! team also made extensive use of VR for the previsualisation. "We have been using this workflow a lot – it just makes it so much easier to really get a good understanding of your production environment if you can literally see it in front of your eyes, and it always gives us a good impression of sizes and speeds within the creative production," Michael explained.
"Since the space where visitors view this show is very limited, all this content was produced from a special perspective camera and was then unwrapped to the Objects UV with a special Cinema 4D plugin called cake. We used the VR workflow again to get a good understanding of this unwrap and how it would look when you move around the venue."
The show is projected using nine Barco UDX 30K projectors supplied by Session Pro.