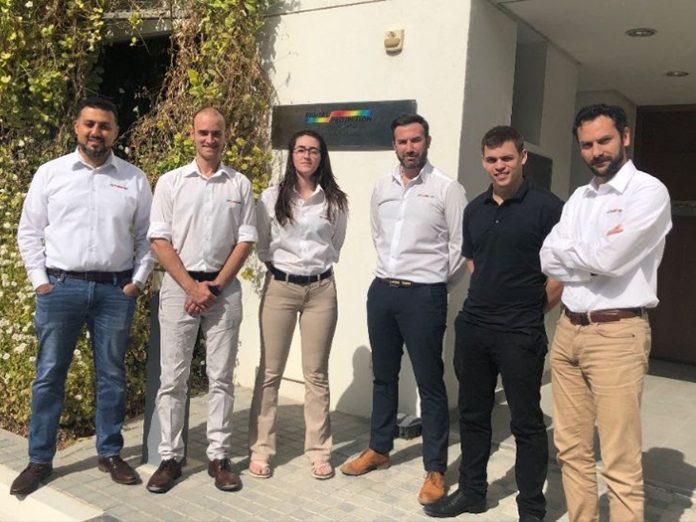 Digital Projection today announces the appointment of Rayan Soumsom, who joined its Middle East operations on 1st January. Rayan has taken up the role of Regional Manager, working alongside Abdulrahman Aladawi who has been in post as business development manager Middle East since November 2017. Abdulrahman's role will also evolve into that of Regional Manager, reflecting his position towards partners within the region. Rayan and Abdulrahman will leverage their respective contacts and knowledge of the entire Middle East region to further build on Digital Projection's ambitious plans for growth.
Moving forward, Abdulrahman will focus his business development efforts in the UAE, Qatar, Jordan, Egypt and Turkey as well as other selected markets, while Rayan oversees growth opportunities in Saudi Arabia (KSA), Kuwait, Lebanon, Bahrain and other territories as required. Educated in Saudi Arabia where he began his working career, Rayan has experience in all aspects of the channel – at manufacturer level having spent eight years working for global automated solutions company Crestron, as well as in distribution and system integration. Two highly skilled regional managers, Abdulrahman and Rayan speak Arabic, English, French and Turkish between them and bring a wealth of knowledge and experience to the company's Middle East operation.
While continuing in his role as General Manager for the Middle East, Matthew's duties expanded effective 1st January as he also took up the position of Radiance LED business manager for EMEA – an indication of the growing importance of the category for the company. Matthew will continue to be involved with major Middle East project business, as well as overseeing general operations and Digital Projection's legal entity in Dubai. Complimenting the local pre and post sales engineering team based in the Dubai office, the Middle East team will also receive additional operational support from the company's Manchester headquarters.
On his appointment, Rayan remarked: "It's a very exciting time to be joining Digital Projection as the company continues to go from strength to strength in the Middle East region. I'm proud to now be a part of that success story and look forward to partnering with Abdulrahman and Matthew, who have done a fantastic job of consolidating Digital Projection's position and reputation in the market. We now have a great opportunity to build further on these foundations – continuing to develop the channel business whilst putting more focus on end users and consultants. I'm very much looking forward to meeting customers old and new, listening to their challenges and requirements and taking them through the innovative technologies and solutions that Digital Projection has to offer."
Matthew added: "As I transition to a dual role within the company, I am delighted that Rayan has joined us – he is a fantastic addition to our team, making us stronger than ever as we enter a new phase for our business in the region. Our commitment to investment in the Middle East market is unwavering and I will continue to play an active role in the business while bringing the added benefit of being more closely involved in the development of one of Digital Projection's industry-leading technologies in Radiance LED. As a team, we are resolute in our focus to build our business in response to the growing demand we see in the market, becoming the market leader in top quality professional projection systems."