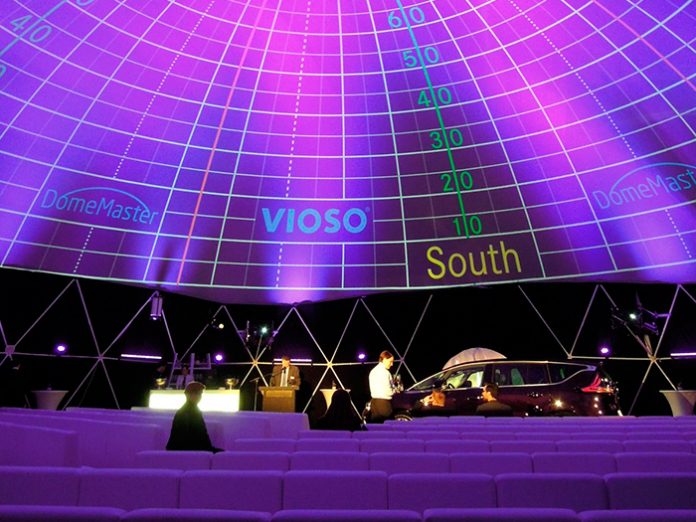 Digital Projection has announced that through partnership with industry-leading software provider, VIOSO, a co-branded blending and warping solution with exclusive features is now available with the purchase of any projector in the Digital Projection range.
The software, named VIOSO Anyblend, will enable greater flexibility for system integrators using projectors from the Digital Projection range. Vioso Anyblend will ensure a quick and easy set up, as well as a one-stop-shop for all automated blending needs.
VIOSO is a leader in the provision of intelligent software solutions for projector warping and blending and projection mapping onto any surface. Borne of an intense university research project 10 years ago, the company has exceeded its initial technology in the field of 3D-mapping, dome projection and industrial applications.
VIOSO founder and CEO, Benjamin Fritsch, explained: "Today the audiovisual market is seeking solutions and not just products. So, it was a natural process to join forces with Digital Projection, to find a unique and value software proposition for their customers. Digital Projection is always looking for cutting edge technology and their 4K laser approach is currently unrivalled. The combination of VIOSO Anyblend and HIGHlite laser in particular is quite simply awesome."
The co-branded VIOSO offering from Digital Projection is optimised for Digital Projection projectors and contains advanced features previously available solely with the VIOSO Virtual Reality & SIM edition:
Data can be exported to tools such as AV Stumpfl Wings, MPCDI, 3D data, so warping & calibration data can be used in different ways. SPOUT support offers every elegant way to add warping & blending to applications. Additional support for 4K-warping, e.g. multi-channel, 4K-lens full dome support and support for fisheye lenses. Edge blending calculations are optimised for the Digital Projection image system
Adding value for the systems integrator is at the forefront of the Digital Projection philosophy, as Digital Projection International Marketing Manager, Mark Wadsworth, confirmed: "VIOSO Anyblend is much more than an integrated blending functionality. It takes care of everything: Content doubling, blending, warping, colour and all in an automated (via camera) or manual way. System Integrators get a great value, easy to use warping and blending solution that is optimised for our range, sourced directly from Digital Projection."
Benjamin concluded: "Digital Projection is always looking forward to bringing customer value and its dedication of support. We know that this cooperation between our companies will add a magnificent value-add for the system integrators."