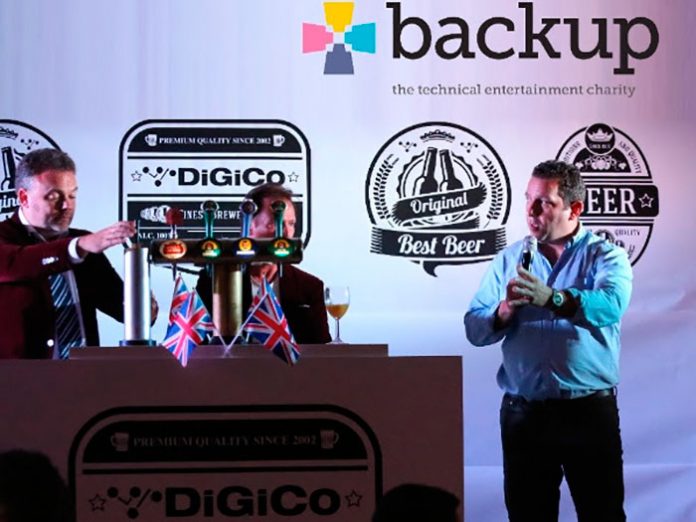 The annual DiGiCo rental company of the year quiz saw the pro audio world come together to do battle to claim the title of brainiest audio rental company in the UK.
Amongst the action James 'Al Murray' Gordon and Dave 'white wine for the ladies' Webster guided the teams through the evening with a series of questions that taxed the knowledge of the participants and a raffle, with prizes donated by the teams, that achieved a record breaking result.
Each year, DiGiCo looks to support the industry with the funds raised during the night. This year, the newly re-branded Backup, the Technical Entertainment charity was selected as the recipient. Backup, previously- Behind the Scenes UK, is a UK charity specifically created to give support to anyone working in the Live Events industry who may need it.
DiGiCo has been a long-time advocate of Behind the Scenes UK and when the opportunity came during the summer to relaunch the UK arm as Backup, a British run and supported charity, it was one of the first companies to sign up to give its ongoing support.
Backup trustee Lee Dennison says, "The DiGiCo Quiz night is the UK audio industry's fun night out of the year and DiGiCo really knows how to show everyone a good time. In previous years, there have been around 16 teams and approximately £4,000 raised for charity. As a result of its popularity, there were 27 teams this year and the total amount raised exceeded £12,500. This is a truly amazing amount of money for Backup and we are extremely grateful for the generosity of both the audio industry and DiGiCo.
"With the recent re-brand, it really was a great way to bring Backup and its mission to the attention of the industry."
DiGiCo managing director James Gordon says, "Backup is a great charity and one that the entire industry should get behind. In doing so, we are supporting those industry colleagues and friends who, from time-to-time, need a helping hand. Something we all need occasionally and supporting our close knit industry while having some fun in the process is very a DiGiCo thing to do."