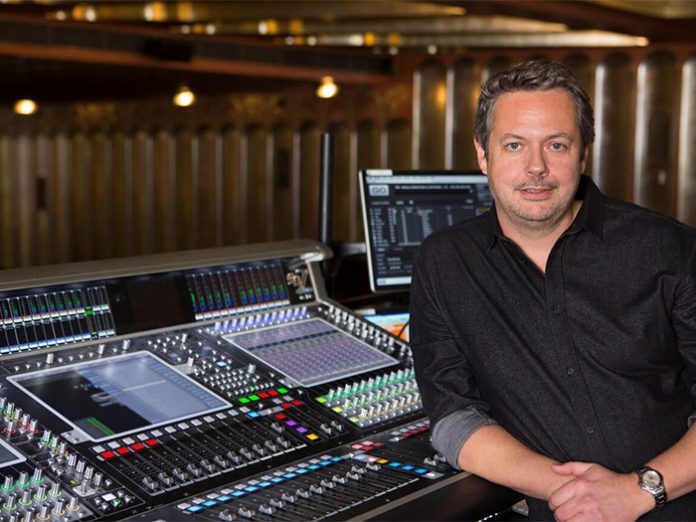 It is 35 years since Dreamgirls first hit Broadway. It was a sensational success then and the latest production at London's Savoy Theatre is equally so. Sound Designer, Richard Brooker, has specified a DiGiCo SD7T to handle Front of House mix duties.
Richard explained: "The show is set at the end of the '60s, just running into the '70s and the disco era. Because of that, I didn't want to do anything fancy with plugins or the like; I wanted an analogue show that wasn't actually analogue. I use the SD7T's onboard dynamics because I love them but, other than that, there's very little in terms of gimmicks going on."
Along with the DiGiCo SD7T, operated by Digby Shaw, Richard also used an EX007 expander during the production period, allowing him to make any changes he wanted to without interfering with the main console. For monitoring, Richard chose a DiGiCo SD8, which is secreted in the bowels of the theatre and is unmanned, having been set up to do the job on its own and feed the Roland M-48 personal monitoring system used by the band.
"We're using around 100 channels," said Digby. "We have 12 Groups, and 38 Auxes, which seems quite a lot, but foldback zones, effects and program sends soon add up… We are using five external and four internal effects in total and Richard is also using Bricasti reverbs, which are pretty standard for him now and are amazing."
The band for the show is hidden away in a specially constructed studio environment in the pit, designed by Richard to allow, in particular, control of the brass section.
Three separately timed vocal groups allow actors to move up and down stage and there is also a hand-held group. Richard added: "I always used to insert time alignment on individuals and change it as they moved around, but now I just have three groups with three different times – up-stage, mid-stage and down-stage – because the handheld group is matrixed differently and EQ'd differently. There's also a stereo vocal Group, which has any click track vocals that come in, to give a little bit of vocal support in big dance numbers. Then there's a band group, which is guitars, bass, keyboards etc."
Digby concluded: "We always create a character tracking sheet so we know who is on stage and when, or who's singing BVs on or offstage for instance. But during a tech that can change all the time and at the last minute.  All I have to do is couple of taps for a current cue, or even a cue in the future, and it's job done, it's all been updated.  Most importantly, there's no need to stop. Without the workflow on the DiGiCo, that just wouldn't happen."