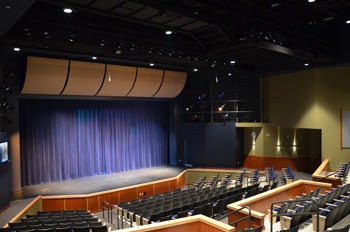 Located about 20 minutes north of Spokane in eastern Washington, Deer Park High School offers a broad curriculum of college prep and career studies for its 675 students. The school has an attractive, 350-seat live theatre which supports Deer Park's active broadcasting technology educational programs. The theatre is well equipped with a certified full-fly rigging system, modern digitally-controlled theatrical lighting, a video recording and presentation system and a high-performance audio system with an Allen & Heath Qu-32 digital mixer.
Dan Huffman heads the school's production department. He emphasises that Deer Park's theatre and adjacent production room are more than just a place for the school to host events. "This is a teaching facility," he said, "and our students run all of the systems at a live event including video, lighting and sound. Live production is an important part of our educational program."
Deer Park's new Allen & Heath Qu-32 replaces an older analogue mixer that has been moved to the production room. "The Qu-32 is smaller and less intimidating than the analoue board," said DD, "But it has plenty of capability and I can even use the line inputs to connect more than 32 sources and access them on different digital layers." The Qu-32 normally resides in a mix booth at the back of the theatre. However, it can be moved into the theatre seating area when required for complex productions. Alternately, operators can take an iPad into the theatre and move from place to place while controlling the mixer by way of a Wi-Fi link.
Dan configured the Qu-32's first layer as a default for simple events. "Almost anyone can operate the mixer in this setup," he explained, "Just turn it on and hand a wireless mic to the presenter."
For the school's more sophisticated dramatic and musical performances, students have set up scenes and layers and they're learning to optimise the DSP and reverb for an individual performer's voice. "That helps us learn by doing," Dan commented, "And we're using more features each time we turn it on." Dan plans to implement the Qu-32's multi-track recording capabilities soon and says his students are Allen & Heath Qu-32 in Use at a Deer Park Concert Deer Park High School's Modern Theatre.