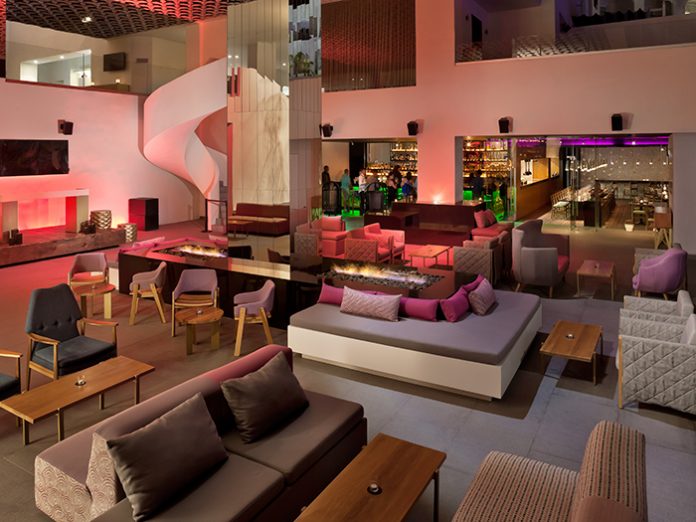 This is no ordinary hotel. Sited at the tip of the Baja peninsula in Mexico and part of the Meliá luxury hotel group, Hotel ME, Cabo San Lucas is in many ways a long way from anywhere, yet it is the centre of attention when it comes to entertainment.
d&b audiotechnik loudspeaker systems have been installed throughout the venue, including its bar, two restaurant locations, and poolside. "Depending on the priority of the particular season, and more frequently the time of day, the different systems and areas are turned on or off," said Meliá Sales and Marketing Director, Jairo Torres Vicaña. "Yet the complexion of our resort must never lose its identity; sound quality is an essential part of the ME identity."
A complex system by any measure, acoustic expert Mauricio Castro of Hi Tech Audio (Mexico City) designed specific sound solutions for each environment. "I unified the character of the sound throughout the hotel by choosing only components from d&b's xA and xS-Series of installation loudspeakers. It was a demand of the brief that hotel guests would be hearing only top quality and consistent sound wherever they experienced it."
But this wasn't simply a question of component choice. "The hotel is surrounded by other resorts and hotels," explained Castro. "The idea behind the operation is a multi-area system that is fully flexible. The pool, outdoor restaurant, beach – yes the beach – plus the indoor and outdoor bars, all feature dedicated distributed systems using 8S, 5S, and 10AL-D loudspeakers, with d&b subs in every location. Mainly the 12S and 18S-SUBs are used, but for the pool area I chose the cardioid 27A-SUB.
These are all potent systems so the precise and reliable dispersion control of all the different cabinets was essential if I was going to achieve the desired goal of DJ level delivery without upsetting the entire neighbourhood. For the indoor spaces the challenge was low ceilings, especially in the bar, but the acoustics are fairly neutral, so again, precise directivity delivered the trademark d&b tonality and quality exactly where it was wanted."
Almost seventy loudspeakers in total, yet Castro was able to use just ten amplifiers from d&b's install range. "Using d&b's 10D and 30D installation amplifiers gave me all the channels I needed to drive the various loudspeakers selectively. So few amplifiers made the installation very competitive on price. Setting up the d&b R1 remote control interface was simplicity itself, providing a simple and secure platform of multiple formats whatever parts of the audio system were in play. Yes, it took some time and attention for me to time align the complete system so guests would notice only subtle changes in level as they moved between different locations, but once set the system was, to quote one DJ: 'banging'.
Hi Tech Audio completed the installation in time for the 2016 summer season and the impact of the system has already taken effect. "The hotel is working on a brand new package designed by Blue Marlin for significant DJ events," concluded Castro. "Marlin is an event production company from Ibiza, Spain that works as a partner for shows and events promoted into the hotel. The system is founded on d&b's touring line array V-Series system, a concert class performer. It's no surprise to me that the hotel has won several awards since it opened – treating their guests to such high quality sound, the Hotel ME can only continue to attract attention."