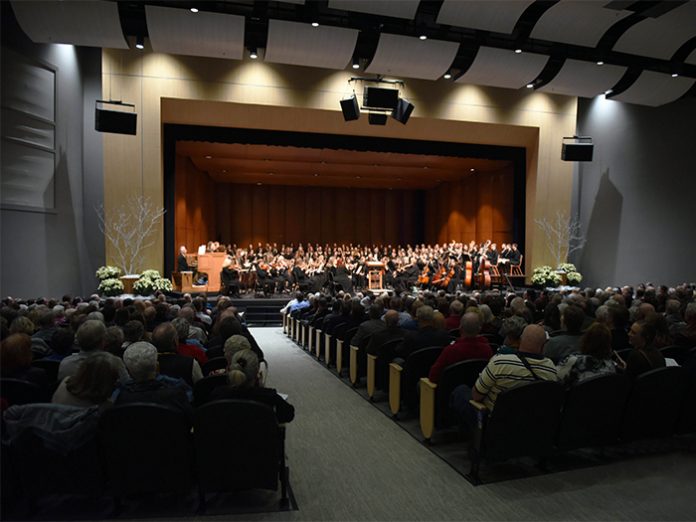 A/V integration company Glanzer Pro Audio has designed and installed a sound reinforcement system for the Shari Flaming Center for the Arts at the Tabor College.
Owner Chris Glanzer used Danley Sound Labs' Danley Direct modeling software to design a system using Danley's patented, point-source loudspeakers and subwoofers.
Chris Glanzer recalled: "I took our Tabor College EASE model and imported it to Danley's Direct modeling software, which had already proved to be extremely accurate for the church. I used Danley Direct to come up with what looked like a great left-center-right system using Danley boxes. To really make sure, I called Danley headquarters and spoke with Ivan Beaver, Danley's chief engineer, who approved of most of the design but suggested that a few of the side fill boxes I included weren't really needed."
Three Danley SH-96 loudspeakers provide all of the left-right stereo coverage and most of the center channel coverage, as well. Two Danley SH-46 loudspeakers and one Danley SH-95 loudspeaker provide side fill and down fill, respectively. Chris was able to fit two Danley DBH-218 subwoofers, which fill the auditorium with rich, honest low-end.
Crown I-Tech amplifiers power the system, and a BSS London provides signal processing. A 96-channel Soundcraft Vi 3000 console and Shure ULX-D wireless microphones complete the system's major components. Chris installed four of Danley's basic GO2-8CX loudspeakers in the auditorium's lobby.
The timeline for installation was challenging. "By the time we got in there, things were five weeks behind schedule. After doing a few Danley jobs now, the biggest thing I've learned is that a Danley installation is easier and commissioning is way faster. We used to allocate two full days for commissioning, but after just four hours at Tabor College, we felt ready to hand over a system that we were really proud of. It was also interesting to pull up the Danley Direct model and compare it with the actual coverage. It's pretty much one-to-one!"