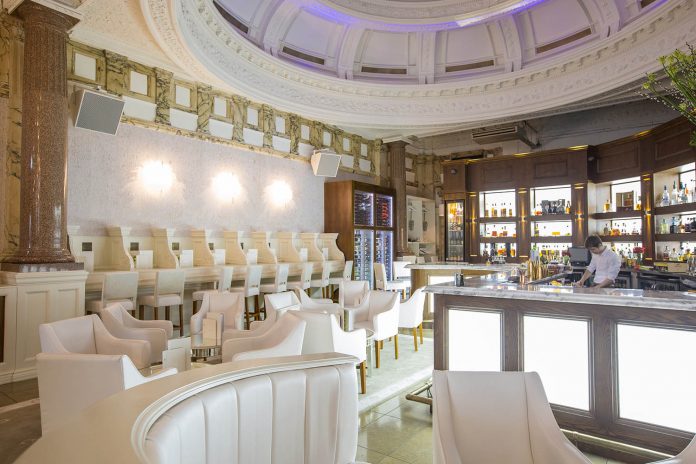 Widely considered to be among one of the best footballers (soccer!) in England's history, Rio Ferdinand played for Manchester United for twelve years before a brief stint at Queens Park Rangers before retirement in 2015. He co-owns Rosso Restaurant and Bar in the city that loves him best, Manchester, UK. Ensuring that Rosso's patrons are treated to a sophisticated, yet, effortlessly hip experience. When a break in the action permitted a sound system swap, Danley Sound Labs' new UK distributor (aptly named Danley UK) stepped in to assist Manchester-based live sound and installation company Neuron Pro Audio. The Neuron staff designed and installed a Danley system using their patented Synergy Horn loudspeakers and a Tapped Horn subwoofer, which now brings the sonic experience at Rosso in line with its upscale menu, décor and service.
 "We have been the audio contractor for the restaurant since around 2012 when failure issues appeared in the system installed by the prior contractor," explained Kyle Marriott, Managing Director at Neuron Pro Audio. "Sadly, they were simply not happy with their initial setup. Coverage was inconsistent as some diners were deafened whilst others couldn't hear anything with zero control over levels or tonality. We had patched up and improved on this where we could, but the speakers themselves always let the restaurant down in terms of sound quality and coverage."
For years, the fact that Rosso almost never closes prevented the kind of big overhaul that Neutron knew had to eventually happen. In the meantime, the company made incremental improvements to eke the best out of the existing installation: replacing the amplifiers where they straight-up failed, adding a DSP front end and new cabling to split the restaurant into separately controllable zones, creating custom EQ filters for the cabinets using measurement software, building bespoke DJ and live performance consoles to fit the décor. They even modified and rehung some of the existing speakers to attain better coverage and volume. "However, there was always the intension and understanding that we would eventually be given the go-ahead to install a properly designed system," Kyle said.
Rosso management gave that go-ahead in anticipation of the restaurant's 10 year anniversary. "The space is beautiful and the clientele expects the highest quality, whilst also appreciating something a little exclusive," said Kyle. "Our experience with Danley's ability to get hi-fi sound and specs that match reality, along with the fact this would be the first permanent installation of Danley speakers in the UK made it an excellent fit. Our goal was simply to get the best sound possible at every seat, whilst also allowing for a little extra oomph when it got busy at the bar on a Friday night. We were able to show via Danley Direct modelling software that the new system could achieve that goal – and more – with less than half the number of speakers used in the existing installation, so they gave us the green light to ship the equipment in".
The restaurant is spread over a roughly 21metres x 20metres area and is split into a reception area with a glorious fireplace, a bar area, a main seating area and a raised seating area with ceiling-high windows and mirrored walls for extra light ("for that VIP experience," in Kyle's words). Two Danley SM60F loudspeakers cover the bar area, and six Danley SH-Mini loudspeakers distributed around the room cover the dining areas. A single Danley TH-212 subwoofer installed inside a custom cabinet with a brass grille near the bar fireplace fills Rosso with warm, honest low-end. "We had to drill a hole through two feet of marble floor to run the subwoofer cable invisibly!" Recalled Kyle with satisfaction.
Inputs range from background music via the C-Burn platform, vocalists and instrumentalists with backing tracks, the occasional small function band and regular DJ performance on weekends. The C-Burn playlist system is tailored to management's taste and updated regularly with new playlists to ensure that the background music is kept fresh and appropriate. BSS BLU-160 with custom BLU-10 touch panel serves as the system-wide DSP, paired with six Void Acoustics Infinite 4 and Infinite QX4 amplifiers.
"Rosso provides a high-class dining experience in a beautiful setting, and the new Danley technology allows the background music to be delivered with purity and clarity to each seat," summarised Kyle. "The Synergy Horn technology allow us to focus each speaker to a particular area without bleed between multiple sources spread around the room."