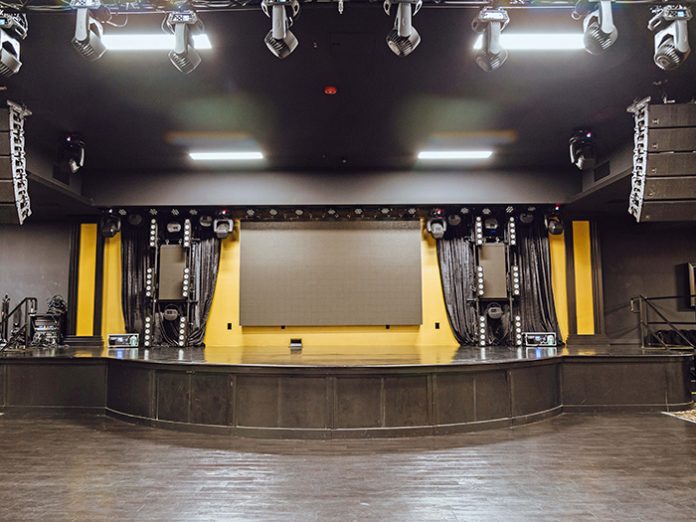 Located in the Gardenwalk shopping and entertainment district adjacent to the Disneyland Resort, the Rumba Room Live is one of the area's newest nightclubs. Featuring two full bars, a coat check, a dance floor, several VIP sections, a stage for live bands, a DJ booth, and a smoking patio to name just a few of the amenities, the Rumba Room Live can host a variety of events with a capacity of 900 patrons. To ensure the best possible audio for this vibrant and upscale venue, a sizeable assortment of loudspeakers drawn from the Event, Artec, and Action Series catalogs of Valencia, Spain-based D.A.S. Audio were deployed.
Props AV, LLC of Beaumont, California, an audiovisual design and build firm that also has a live events production division, was contracted to design and install the Rumba Room Live's new sound reinforcement system. Using a sizeable assortment of line arrays, sub bass enclosures, point source loudspeakers, plus power amplification and DSP (Digital Signal Processing)- all from D.A.S. Audio—the new setup was installed during the 4th quarter of 2016 and was ready for action when the club opened its doors in early December. Michael Betancourt, the firm's General Manager and System Designer, discussed the project.
"The Rumba Room Live is a very upscale venue with just over 10,000 square feet of space," Michael reported. "Presently, they have a combination of both live bands and DJs and the music types range from pop/rock to Latin-themed. In addition to the stage area, the club is divided into eight additional zones – all outfitted with loudspeakers to ensure the music is clearly heard throughout the entire property."
Suspended over the stage area, Michael and his crew flew a total of ten D.A.S. Event 208A powered 3-way line array enclosures, with five elements each for the left and right hangs. For low frequency support, there are four Event 218A powered subwoofers, which reside under the stage. For stage monitor purposes, the setup includes eight D.A.S. Action-12A powered loudspeakers as well as an Action-15A powered enclosure. Additionally, the setup provides an additional two Action-12A enclosures that serve as the DJ's monitor setup.
As previously mentioned, there are eight additional zones—which are outfitted with a total of fourteen D.A.S. Artec 508 2-way, passive loudspeakers. These zones include the lobby, six VIP areas, the bar, and a walkway area. Power amplification for these loudspeakers is provided by five D.A.S. Audio D Series amplifiers. Rounding out the setup, Betancourt and his team utilized two D.A.S. Audio DSP-4080 stereo/mono DSP units for loudspeaker management.
When asked about those attributes that made this combination of equipment the ideal choice for the Rumba Room Live project, Michael offered the following thoughts. "The Event Series offered the ideal dispersion characteristics required to cover the dance floor with more than adequate sound pressure," he explained. "Equally important, the system hardware made for easy rigging using the AX-Event-208 Rigging bar and having a self-amplified system streamlined cabling and resulted in a clean-looking installation. The Event 208A series provides a clear, undistorted, and musically very natural vocal range that is perfect for the Latin vibe the Rumba Room is designed for, and paired with the Event 218A subs, the system offers the perfect level of sound pressure and clarity. And finally, the Artec 508s provide even sound coverage throughout the entire space – without a need to overpower the mains for coverage."
For a project as sophisticated as the Rumba Room Live, questions inevitably arise during the design and installation phases. Here too, Michael was very upbeat about D.A.S. Audio's customer support services: "D.A.S. Audio's support is like no other. The team backs each other up and they help their dealers every chance they can. I was particularly impressed with the support offered by D.A.S. Audio's Carlos Henao and Roberto Almodovar. These gentlemen were always willing to help – without missing a beat. They had my back throughout the entire project."
With the Rumba Room Live installation successfully completed, Michael reflected on the project, "There are always plenty of obstacles that occur on projects of this nature, but when the entire job – audio, lighting, and video – came to life, it was better than I had hoped for. D.A.S. helped out every step of the way. It's been a very positive experience for everyone involved."