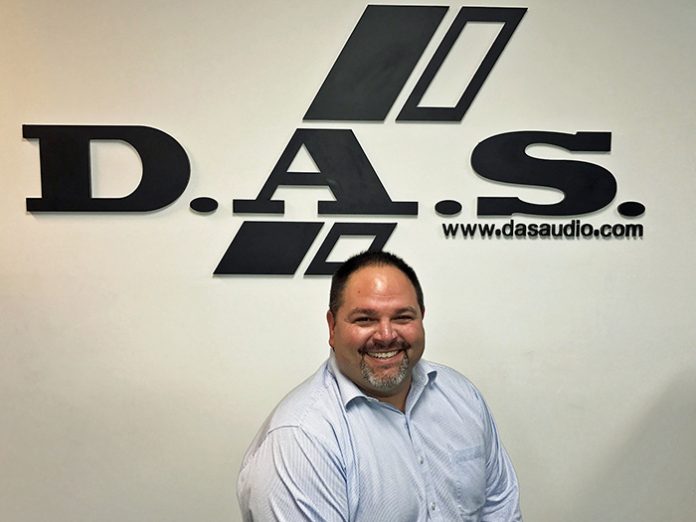 D.A.S. Audio, a globally recognised manufacturer of loudspeaker systems, power amplification, and related products for the sound reinforcement market, announces the appointment of Thomas Westberry to the position of Installed Sound Manager. In his new capacity with D.A.S. Audio, Westberry will be responsible for overseeing all sales activity related to commercial installations, including oversight of the company's field sales force. Based out of the Miami office, Westberry commenced work on November 1st.
With a well-rounded background that includes sales, marketing, and social media, Westberry's experience makes him well suited for his new position at D.A.S. Audio. Most recently, he served as the Regional Sales Manager for Freed Sales International of Miami, FL, where he worked as a manufacturer's representative in the professional audio and AV installation markets.
Prior to this, Thomas was the Account Manager for Lakeland, FL-based Mabe Production and Installation. In this capacity, he designed audio – video – lighting systems for clients in the House of Worship market and managed the live event production division in addition to spearheading the company's sales and marketing initiatives. Prior to this, Westberry spent six years as owner of Westberry Audio Group, a company focused primarily on church design and AV integration.
Reflecting on his new position with D.A.S. Audio, Westberry offered the following thoughts, "I am very pleased to be joining the D.A.S. team. This company enjoys a reputation as one of the foremost loudspeaker brands and, with its comprehensive product line, is firmly entrenched in both the live sound production and installed sound markets. I look forward to working with all of the talented and dedicated professionals I have, thus far, encountered and am eager to help take D.A.S. to the next level."
Jaime Villegas, General Manager of D.A.S. Audio of America, echoes Westberry's enthusiasm. "All of us here at D.A.S. are glad to have Tom joining us," he said. "We've known Tom for quite some time because of his involvement with Freed Sales International, which is a D.A.S. sales representative firm.
We've benefitted from his hard work, so we know quite well what he's capable of. I'm confident Tom will be a solid contributor to our efforts on a national level."