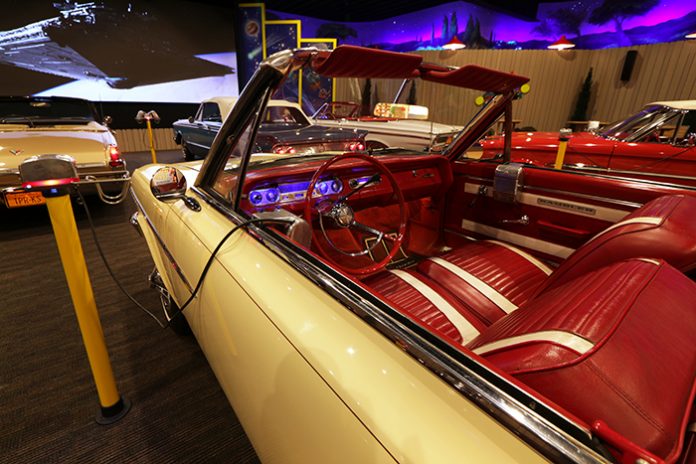 When an event space owner and esteemed car collector in Pottsville, Pennsylvania decided to model a cavernous 4,000 sq ft room after a vintage drive-in movie theatre he knew that top notch technology would be necessary to truly create the coveted 1950's experience. That's why he called on local technology integrator Tom Walker of the CI Guys to turn his vision into a reality with a custom-built entertainment system anchored by ELAN control.
"First and foremost, a reliable control system is the most important factor when designing a unique and complex system such as this," Tom explained. "It's imperative that the technology is responsive and accessible during private events. That's why we installed a central ELAN system to control both the sophisticated theatre and multi-room audio system. ELAN also controls the entire building's Lutron lighting, Aprilaire thermostats, Elk Security system as well as Axis and Toshiba security cameras. Now, through both one-touch access and automated scenes, all of the event space's technology is instantly manageable."
To serve as the basis of the system, Tom installed one ELAN gSC10 System Controller accessible through 14 strategically placed ELAN touch panels and two ELAN handheld remotes. Additionally, Tom used three ELAN S1616A audio controllers to control the space's extensive multi-zone audio system. "With reliable control in place, we can employ the most cutting-edge entertainment technology available today and turn what was once a garage into an indoor drive-in movie theatre," Tom said.
Tom and his team were tasked with building a home theatre experience that closely resembles that of a 1950's drive-in theatre. To do so, he installed a central focal viewing point and an ELAN-controlled 24×10 Stewart Filmscreen display of which can be viewed from the comfort of seven vintage cars stationed throughout the room.
Mounting the screen was the first challenge of many that Tom tackled and overcame during the installation process. His team of carpenters had to design a 'pully' system with a custom-built frame to successfully hoist the screen high enough to be seen from all angles in the space without using a lift. Then, he could roll out and lift the screen from the ground to the prebuilt framed opening in the wall. "We had to get really creative when installing the screen because we could not bring a lift into the room at the time the screen was being installed. The screen was too large to attempt to unroll and stretch from a ladder," Tom added. "The 'pully' system that we designed allowed us to physically unroll the screen on the ground, stretch it and then slide it into the wall cavity mounting it onto a completely pre-aligned framework. We were able to develop a nifty and successful solution!"
Additionally, Tom and his team also installed a Digital Projection Insight 4K Laser Projector in a private projection room above the concession stand located at the back of the space. Tom then installed the projector into a custom glass encasement and thus had to choose the perfect lens that would project a clear image through it. "Before actually installing the projector, we tested multiple lenses to gauge what would work best for the screen in terms of resolution and overall look," Tom informed. "The end-result is truly awe-inspiring."
Authenticity was absolutely key for the client. That's why Tom and his team also installed a sophisticated 360° audio system throughout the space to closely replicate an authentic 'drive-in' theatre experience with customised effects. For example, the event space owner had acquired and implemented traditional 'drive in' speakers which needed a slight delay function to recreate the outdoor 'echo' effect common in old school drive-in theatres, installing two in each of the seven cars. All the 'drive in' speakers are dedicated zones of audio to play in conjunction with the surround system or separate from the rest of the 360° audio experience.
"It was definitely a challenge to figure out how to get the central audio feed to these unique drive-in speakers that are actually installed on pedestals next to the cars with enough cabling to bring into the car," Tom explained. "They are not part of the multi-room audio system. Rather, they are separate from the room's zones and have their own dedicated channels. It was our job to extract audio content and filter them to these speakers to effectively recreate a degree of authenticity that the client requested."
Despite several hiccups, Tom and his team were able to successfully transform the room into a fully functioning event space that looks and feels like a 1950's drive-in movie theatre. With a single button press on the ELAN mobile app, the lights dim, the audio fires up and the projector turns on. With another press or two, the movie starts, the game is on, or they can just watch TV. "This was certainly the most unique project I have ever done," Tom beamed. "These complex and sophisticated projects would not at all be possible without a reliable control system at the centre of it all. ELAN truly helps to bring it all together and also provides a one-touch control that is crucial during an event."