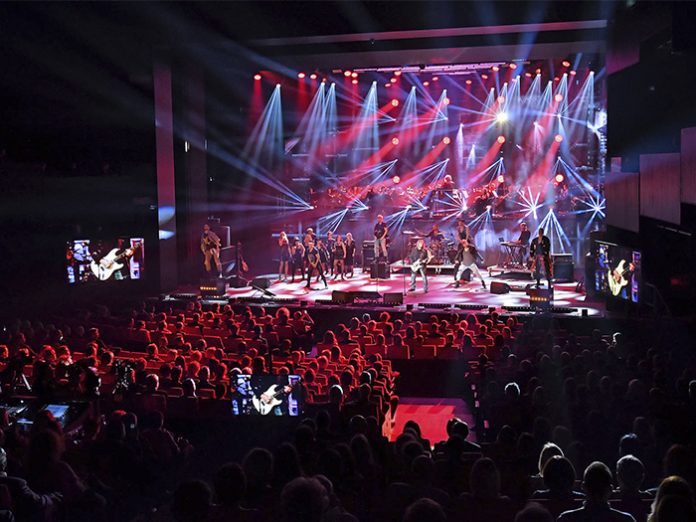 Centrum Spotkania Kultur (CSK) in Lublin, Poland, is an arts, performance and culture venue. Its main auditorium is the second largest stage in Poland. There are also a chamber space and a cinema hall, offering a lively programme of new, classic, reimagined and experimental works by creative from all over Poland and Europe.
CSK has 70 x Robe luminaires in the main stage space – a combination of LEDWash 800s, BMFL Spots, Pointes and ParFect 100s – which were specified by CSK's head of technical, Bart Pyczek.
The main auditorium with 54 metres in depth, 15 metres in width and 26-meter high ceiling has a capacity for 1000 people. Especially for the headroom and high trim height, Bart needed powerful and flexible moving lights.
Bart recommended that Robe moving lights would be a flexible and highly cost-effective option. "I wanted Robe in the house to give us the best – and the most – options, and for the reliability," he stated.
He especially praised the Robe BMFL animation wheel: "It's highly effective for backdrops and projections onto the floor, scenery or a back-cloth or even out into the auditorium." The Robe LEDWash 800s he chose for their small size and power-to-weight ratio, for the refined and smooth colour mixing and their range of homogenised collars.
For productions that are either recorded for TV or streamed and broadcast live, the LEDWash 800 offers flicker-free performance and very even coverage, while the individual ring control gives lighting designers – both in house and guest – another complete range of effects.
The Robe ParFect 100s can be used for lighting, set, scenery and also architecture around the building, and they also have several authentic CT whites, which are ideal for highlighting building details, in particular for rock and pop shows as well as for operas, theatre productions and modern dance.
"All these luminaires give us the range and scope we need to light the assorted genres and styles of performance", Bart said.
The majority of shows at CSK utilise the in-house lighting systems, and sometimes they have to sub-hire extras. Bart mentioned that the healthy stock of Robes in Polish rental companies is very useful when they need additional fixtures.
Sometimes CSK stages three different shows on consecutive days, all with different orchestras over three days, all needing totally different lighting. CSK works with the Grand Theatre and The National Opera of Poland, and a raft of international LDs which have recently included Marc Heinz who lit the opera "Die Tote Stadt" using the Robe rig.
Bart and the technical staff run theatre studies courses at CSK in conjunction with Lublin University, with the main Technical Theatre modules all taught in cooperation with the venue.
CSK's stage machinery system was supplied by a Czech company, EST Stage Technologies from Tsjechië, lighting control is a grandMA and they have a 52 bar/bridge house winch system to take care of all the main stage flying.