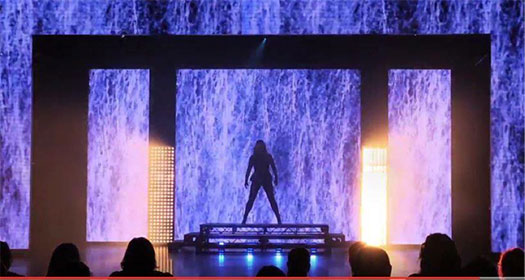 All five ships in the P&O Cruises fleet have one thing in common – they all benefit from having ShowPro GoldenEYE 77 LED fixtures for their entertainment spectaculars.
Combining 49 x 3W warm white, individually controllable Cree LEDs with a super tight 6° optical system, the GoldenEYE 77 is equally at home as a powerful blinder or dynamic visual display system. The panels can simply and quickly join together to give you a wall of light that comes with all of the features you've come to expect from ShowPro.
John Buchanan of Point Source Solutions, supplied GoldenEYEs to Pacific Eden and Pacific Aria which were launched last week. The fixtures feature in the nightly entertainment produced by Grayboy Entertainment and programmed by Gavan Swift.
The video shows 'Twice Upon a Time' a contemporary dance piece that takes a dramatic journey through a post-apocalyptic world to a time of re-generation and splendour, featuring a captivating original score and evocative choreography. With no dialogue, the story is told through movement and music, with elements of the soundtrack recorded in a fictitious language.
The rear video wall is split into three with four GoldenEYEs on a two-metre piece of truss stacked in each gap.
"I love the GoldenEYEs," commented John. "They're very bright and have a fast response, and the pixel mapping ability creates some unique effects."
John also supplied the ships with ShowPro LED Up Quad-4 battery operated uplighters which come in a smart nylon four pack carry case for easy transport and deployment. These are also used onstage as well as for a DJ party and basically wherever they wish to put them! The Pacific Eden use them on their pool deck to light up bands and other events.
"The LED Ups are great because they're a lot whiter than some of the other products on the market," said John. "They just work really well and the wireless unit you can get for them is great. They've been pretty successful and the guys onboard are more than happy with them."