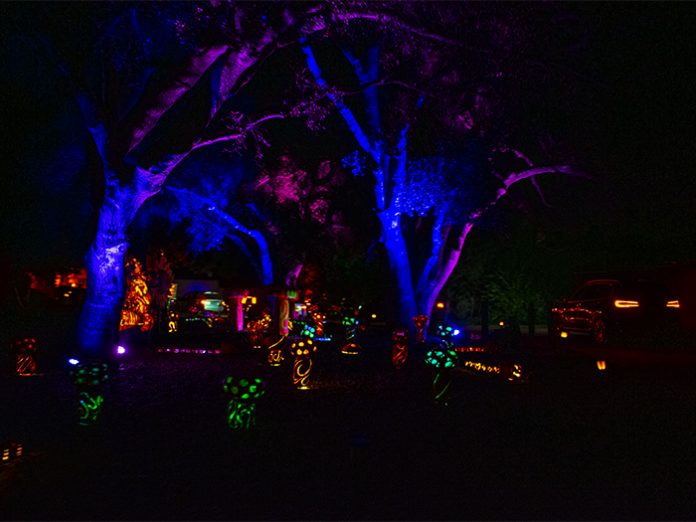 Now into its third year, Nights of the Jack is a unique Halloween experience which sees the historic King Gillette Ranch in the Santa Monica mountains of Los Angeles filled with thousands of hand-carved jack-o'-lanterns. Arranged into incredible themed displays, the pumpkins are further enhanced by colourful background lighting from ADJ IP65-rated LED wash fixtures as well as smoke and bubble effects from ADJ atmospheric generators.
Named after King C. Gillette, founder of the Gillette razor brand, who owned and developed the land in the 1920s, the King Gillette Ranch is a 588-acre site in the Calabasas region of Los Angeles that is now owned and operated by the Mountains Recreation and Conservation Authority. It is the perfect location for a celebration of jack-o'-lanterns as it is generally accepted that the name Calabasas is derived from the Spanish 'calabaza' meaning 'pumpkin', 'squash', or 'gourd'. Legend has it that in 1824 a Basque rancher from Oxnard spilled a wagonload of pumpkins on the road while travelling to Los Angeles. The following spring hundreds of pumpkin seeds sprouted alongside the road and the area was named Las Calabasas, 'the place where the pumpkins fell'.
Having successfully launched in 2018 and experienced fantastic growth last year, Nights of the Jack 2020 was put in jeopardy – as with so many events – by COVID-19. In past years the attraction had a walkthrough format, with crowds of visitors strolling between the displays at their own pace. However, there was no way that would be allowed to happen in 2020. Fortunately, the organizers were able to pivot the attraction to provide visitors with a fun family activity that is also fully COVID-secure.
"For a long time we weren't sure if Nights of the Jack was going to happen or not this year, because LA county is pretty locked down," explains Lighting Designer, Michael Hoffman. "Then in July we did a site visit with the owners and creators of the show – Ben Biscotti, Bobby Rossi and Tony Shubert – and they came up with the idea of transitioning the event from a walkthrough attraction to a drive-thru experience. They mapped out a new route, we drove it a couple of times, and all agreed it could work. The Nights of the Jack team then put a proposal to local authorities and one by one got the permits signed off, the last one just a few weeks before we arrived on site."
CBC Technical – a full service audio, visual and lighting solutions company based in Temecula, CA – has been responsible for supplying the lighting equipment and power distribution for Nights of the Jack since the event's inception. While Michael, who has over 25 years of experience designing lighting for both theatrical and corporate projects, has led the design across all three years. He has seen the scale of the project grow considerably – especially this year when it transitioned from a ¾-mile walking trail to an almost 2-mile drive-thru route – however, ADJ's 12P HEX IP has remained the main workhorse of the lighting setup. This heavy duty IP65-rated LED par fixture offers a 30-degree beam angle and 12 potent 12-Watt 6-in-1 HEX LEDs to allow a far-reaching throw and unrivalled color mixing potential.
"I've been using the 12P HEX IP for years, both on the previous Nights of the Jack runs and for a variety of other projects and shows. Originally, I'd only use them outside for architectural lighting, as I hated the dimmer curve. But the ADJ guys listened, and fixed the issue with a firmware update, and I now use them for top and halo lighting on theater projects also. I really love them, I think they're great all-round fixtures that are at a good price point and are also very rugged – I haven't had any issues at all with them and we use 200 fixtures on this one project alone."
Because of this year's extended route, CBC Technical had to increase the amount of lighting used for Nights of the Jack. They decided to invest in more fixtures to expand their rental inventory and this time selected the 12P HEX IP's smaller brother, the 7P HEX IP. Offering a similarly rugged casing design, also tested to the IP65 standard, this model features 7 x 12-Watt 6-in-1 HEX LEDs.
"This was my first time using the 7P HEX IPs," comments Michael, "and I just fell in love with those fixtures. They are a little bit smaller than the 12P HEX IPs, which makes them really easy to handle, and you still get that same kind of punch. They also weigh a little less than the 12Ps, so I can put two of them on top of a lightweight pipe and base, and it still feels safe and secure. I wouldn't be comfortable doing that with the larger fixtures. So I guess what I really like is the output-to-size ratio."
In total, 275 12P HEX IP and 7P HEX IP fixtures were deployed by Michael and the team from CBC Technical to light this year's Nights of the Jack. Set to a wide variety of different colours, they are primarily used to illuminate the trees that form the backdrop to the pumpkin displays, providing added scale and impact to each area. New displays this year included witches, UFOs and a pumpkin train, alongside popular scenes returning from prior years such as the Hollywood Hills and a SpongeBob SquarePants display.
Another popular scene from last year that has made a welcome return for 2020 is based on an under the sea theme. This is brought to life by a number of ADJ's H20 DMX IR fixtures. Powered by an 80W LED source, this distinctive effect projector uses a pair of textured glass wheels to simulate the appearance of flowing water. It is ideal for theatrical applications, as well as for creating an exciting atmosphere projected onto the walls, ceiling or floor of an entertainment venue.
"I think the clients' favourite ADJ fixture is the H20 DMX IR, they love the effect it creates. It really sets the right mood for the under the sea area. We also use them for the SpongeBob display and this year have added more to light a cluster of oak trees on the front lot right by the ticket queue line. There's four of them, set to yellow, alongside twenty of the 7Ps doing various shades of red. It makes it look as if the trees are ablaze, which really grab's visitor's attention as they arrive."
Finishing touches for a number of the displays are provided by ADJ bubble and fog machines. Four VF1600 foggers, running with offset timers, add an extra element of spooky foreboding to the graveyard scene. Each of these portable, yet powerful, atmospheric generators feature a 1500W heating element which allows them to output up to 20,000 cubic ft. of fog per minute. Meanwhile, ten high-output Bubbletron XL bubble machines add a little further magic in the SpongeBob and under the sea areas.
"I've really been stoked by the outdoor gear ADJ has been producing over the last few years," concludes Michael, "and this project has proven it to be very hard-wearing and reliable. All of the gear sits out there for six weeks solid. When we load in it's generally 100-degrees in the day, cooling down to 75 at night, but by the end of the run those temperatures are more like 75 in the day, dropping down to the 50s at night. So they're contending with a big temperature change as well as occasional rain showers and the mud and dust on the ground. We're still using 12P fixtures that we bought for the first Nights of the Jack, and this is by no means the only show we use them for, which really demonstrates their rugged-ability."
Offering a welcome opportunity for families to get out of their houses for a fun activity with no risk of contracting COVID-19, Night of the Jacks 2020 is proving hugely popular. It began on October 1st and will run until November 1st, with the attraction open nightly Thursday thru Sunday and all of Halloween week. Due to limited capacity, timed slots must be booked in advance, with some nights having already sold out.