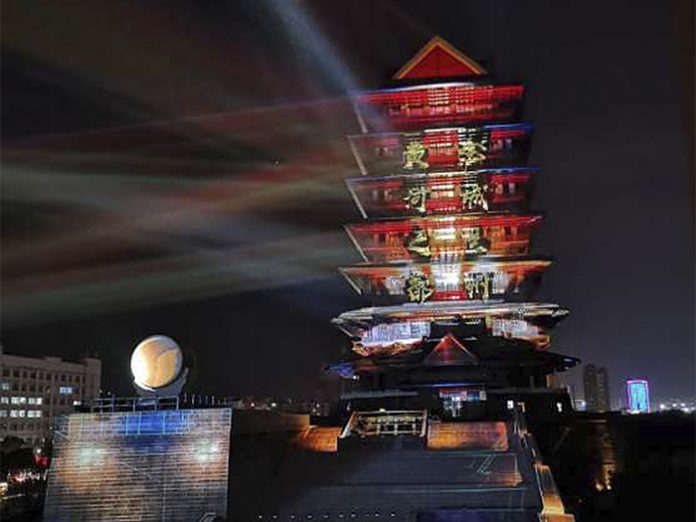 An iconic watch tower that overlooks China's second-longest river – the Yellow River – is magnificently lit by Christie laser projectors for a visually stunning light show aimed at promoting Yellow River culture and boosting the local cultural tourism industry.
Located in Lanzhou, capital of Gansu province, the 90-metre-high Yellow River Tower is the centrepiece of a night-time extravaganza titled "The Great Lanzhou", which made its official debut on September 29 ahead of China's 71st National Day celebrations. The outdoor show features state-of-the-art 3D projection mapping, stage lighting, lasers, atmospheric effects and live performances to tell the story of the Yellow River basin – birthplace of ancient Chinese civilization, and the most prosperous region in early Chinese history.
Projection is accomplished by Christie's newly-appointed distributor Zhongqing Yingye Group using 32 Christie 1DLP and 3DLP laser projectors comprising DWU2022-HS and Crimson WU31 models featuring Christie BoldColor Technology, which offers enhanced colour performance and saturation. They are strategically installed to deliver bright and colourful visuals on the Yellow River Tower's eastern face, as well as the grand stairway and podium in front of it.
A spokesperson for Zhongqing Yingye Group said: "We are proud to be involved in this landmark 3D projection mapping light show that highlights the history, culture and development of the Yellow River and Lanzhou. Christie's high-brightness HS Series and Crimson Series laser projectors, known for their long-lasting solid-state illumination in a rugged and compact chassis, are our top choices for this project. Equipped with powerful and easy to use features, they are well suited for demanding, large venue events and applications."
The elaborate light-up ceremony, attended by Lanzhou City government officials and other VIPs, included an engaging storytelling sequence complemented by a slew of brilliant, lifelike projections that provided an artistic and strong visual impact. "The Great Lanzhou" light show, as its title suggests, beautifully showcases the rich heritage of Lanzhou and is poised to elevate the city's cultural status.
Zhongqing Yingye Group's spokesperson added that the show's high-quality projections has set a new benchmark for cultural night tourism in China's north western region, and the client is very satisfied with the outcome. Both parties are honoured to be involved in the government's push to set up the Yellow River cultural tourism belt, which is aimed at increasing the appeal and vibrancy of Lanzhou and its surrounding regions.
April Qin, director of sales, Enterprise, Christie China, commented: "We are delighted that Zhongqing Yingye Group has accomplished this amazing project in Lanzhou that aptly demonstrates the capabilities of our HS and Crimson Series laser projectors. Built tough and always ready to deliver big, bright and intensely colourful images, Christie's 1DLP and 3DLP projectors are able to withstand the rigors of demanding, high-usage applications."
From the smallest venues to the biggest screens, there is a Christie projection system that's right for every application and budget. Christie's line-up of 1DLP and 3DLP projectors come in a range of resolutions, and deliver exceptional image quality, brightness, versatility, and ease-of-use. They have become the trusted choice for a number of corporate, cultural, entertainment, and tourism projects across China, such as Guangwu Mountain Dreamscape multimedia show in Bazhong, Hutian Cave projection mapping show in Xuancheng, Nianhua Bay light show in Wuxi, and Nanxun Old Townin Huzhou.