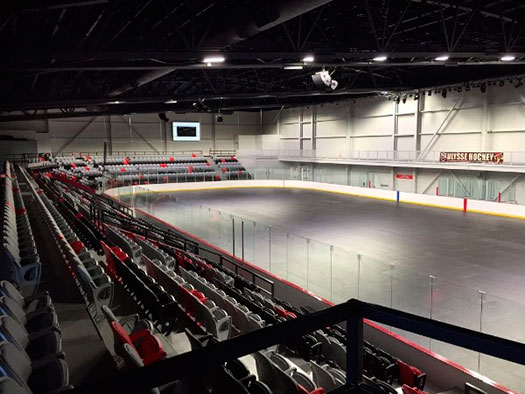 Using the terms, hockey arena and exceptional audio, in the same sentence will likely elicit a storm of protests from system designers and audio engineers who have long had to stretch the boundaries of basic physics to combat the lengthy reverb times built into sporting arenas as an intentional tool-not a flaw-to help pump up crowds. However, thanks to Solotech's recent installation of L-Acoustics Kara and ARCS Wide loudspeakers at the new Complexe JC Perreault in Saint-Roch-de-l'Achigan, Quebec, the Montreal-based audio provider has proved that high-energy sports and high-quality sound can, indeed, both thrive in the same facility.
Although Complexe JC Perreault is every bit a hockey arena, boasting two separate NHL-sized rinks, the multipurpose facility was designed from the start more like a theatre than a sporting venue. "The room was acoustically treated to obtain an RT60 of about 2.6 seconds, which greatly contributed to increased intelligibility," noted Solotech's Pierre-Paul Gignac, who added that it is not at all unusual for sports arenas to have a reverb time of more than double that figure.
Seeing that shows and sports have dramatically different requirements when it comes to audio, Solotech designed and installed two separate sound systems-a fixed playback and PA setup comprised of four coaxial 12XTi enclosures covering the ice plus six hangs of two ARCS Wide addressing the bleachers, and a second main system that is lowered from the ceiling for shows. Designed to deliver full-range sonic reinforcement for a packed house of 3,000 people for concerts and other productions, this second system features two arrays of five Kara enclosures for mains, two hangs of two ARCS Wide for out fill, two more ARCS Wide for front fill and four SB28 subwoofers, all powered by six LA8 amplified controllers plus one LA4X.
In show mode, the Complexe hosts everything from fashion shows to concerts to poker tournaments, so the audio system had to hit a number of points. It had to sound good, look good, reconfigure easily, and given that the facility is also home to the non-profit it is named for, which has a mission of minimising the dropout rate among area high-school students had to be budget-friendly.
"It is important to note that L-Acoustics is one of the preferred brands used regularly by Solotech, both on tours and permanent installations," Pierre-Paul shared. "L-Acoustics products have proven to be reliable and respond well to the architectural and environmental challenges presented by our customers. For this project, sound quality and ease of use were the qualities that most influenced us, along with the system being able to be deployed at a reasonable cost."
Complexe JC Perreault can actually be set up in a number of different seating arrangements depending on the nature of events a challenge that made system flexibility and ease of deployment even more important.
"When not lowered for non-hockey events, the concert system is mounted on chain engines and rigged as high as possible in order to avoid the arrays being struck by a puck during a game," Pierre-Paul described. "When switching over for a show, they lower the motorised equipment, install four subwoofers on the floor with front fills placed on top, connect the amps, and that's it. The changeover is fast, simple, and requires no additional motors or rigging, which is great. Thanks to extensive modeling and audio simulations done in L-Acoustics' Soundvision software beforehand, we determined that Kara and ARCS Wide were the ideal solutions for this venue, and they truly are."