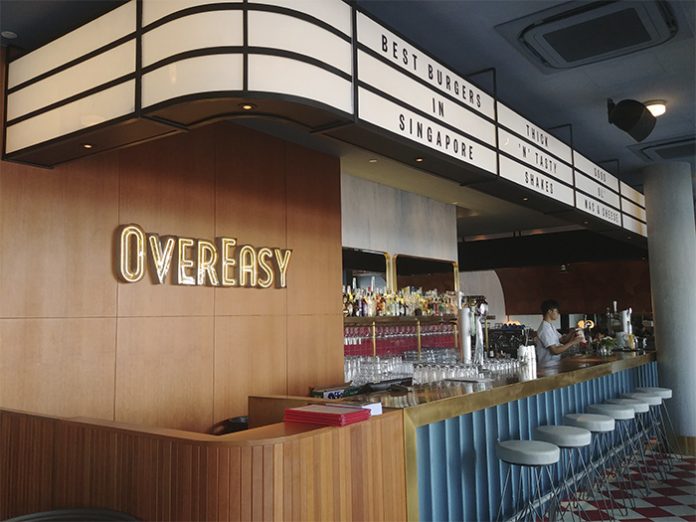 The Lo & Behold Group own and operate two OverEasy American-style diners in Singapore. Desiring a better overall sound experience for OverEasy patrons, and a permanent solution for outdoor space events, the Lo & Behold Group commissioned Electronics & Engineering Pte to design and install a new audio system for their One Fullerton Road venue.
The permanent outdoor part of the system also required loudspeakers that could handle all weather conditions, particularly torrential rain and high humidity. Case Woo of Electronics & Engineering Pte was the audio consultant for the project, tasked to meet the varied requirements for indoors and outdoors with good aesthetics and sonic capability. To meet all of the requirements, he chose compact Community loudspeakers that not only delivered the performance but are also unequalled for reliability in all-weather environments.
For the high-table dining side of the outdoor deck, Case chose Community W SERIES W2-228 8-inch premium performance quasi three-way loudspeakers, with four W2-218 8-inch two-way units providing lower volume fill for the low-table family dining side. Two XLR-input panels are strategically positioned to allow for the addition of a subwoofer on featured DJ nights.
The indoor dining room, which includes low and high lounge dining areas, utilises seven Community D SERIES DS8 8-inch high output surface mount loudspeakers, with three D10SUB flush mounted ceiling subwoofers adding low frequency extension and impact. All loudspeakers are powered by Powersoft Quattrocanali amps and zone control is handled via Symetrix Radius with ARC panels.
"The Community loudspeakers belie their size and produce clear, powerful sound," concluded Case. "The clients are pleased that we have met their objectives so effectively."