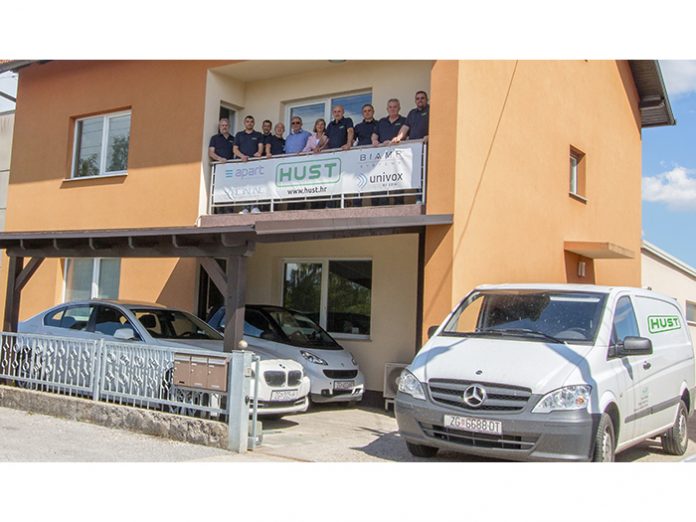 Community Professional Loudspeakers is pleased to announce the appointment of HUST d.o.o. as its distributor for Croatia. HUST was founded in 1994 in Zagreb and is one of the leading Croatian distributors and manufacturers of professional audio, electronics and control systems, offering a comprehensive range of products and systems for corporate, commercial and public applications. Brands distributed by HUST include Biamp, TOA, Apart, Univox and Screenline.
Tomislav Stubičan of HUST commented: "With our team of highly qualified professionals we provide integrators with complete support, through concept, design and supply to commissioning, and after-sales service. Our projects comprise many applications, including stadiums, hotels and retail, hospitality and tourist venues, hospitals and public buildings.  We are able to help our customers achieve optimal quality for their investment by providing complete systems, and Community offers us a substantial range of premium products for many of our key markets. We are very excited to be working with the brand and look forward to substantially growing its sales in Croatia."
Community's EMEA Sales Manager Jamie Ward added: "It's great to be partnering with HUST as they have such a strong network across Croatia and interestingly, are focused on the same installation markets as Community." HUST operate true stocking distribution and are renowned to be technically very strong, offering total system design which places them in a very unique position in this region of Europe. HUST is also ISO 9001 certified, demonstrating their commitment to high-standards and quality management systems. Jamie stated that even from the start, the team had shown strong enthusiasm for the solutions that Community provides and they are already proving to be real ambassadors for the brand.