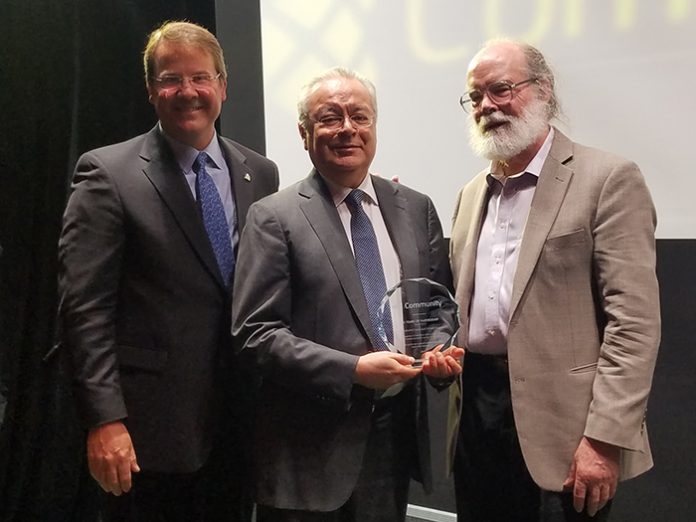 Community Professional Loudspeakers recently celebrated its 50th anniversary in 2018, while also celebrating the 25th anniversary of its partnership with Mexican distributor, Ampere Manufacturas Electrónicas sa de CV.
Ampere Manufacturas Electrónicas, founded in 1985, is a prominent Mexican distributor specializing in the supply of pro audio for the installation and broadcast sectors, providing market-leading system design, technical support and service for all its brands.
To celebrate 25 years of partnership with Community, Ampere Manufacturas Electrónicas recently held a special training event for the official launch of the new IV6 modular vertical array in Mexico. Dealers from all over Mexico came for a day of Community product training, followed by a party in the evening with live performances. The event was supported by key Community staff including President and Founder Bruce Howze, Christine Howze, CEO Steve Johnson, Director of Technical Services Dave Howden and Latin America Sales Manager Steve Goodwin.
Community chose the event to present Ampere Manufacturas Electrónicas with a special award, to thank them for "25 Years of Partnership." The visit to Mexico also gave Bruce Howze and Dave Howden the opportunity to present technical topics at an AES meeting in Mexico City.
Bruce commented: "It's very gratifying to see the distribution we started 25 years ago with Ampere develop over the years into the enduring partnership we have today. They've always given their total commitment to our brand and products and are a valued part of our global team."
"Ampere is a fantastic company to partner with," added Steve Goodwin. "With 25 years' experience, they know our products inside out, yet maintain fresh enthusiasm with every sale and project. As Sales Manager for the region, I couldn't wish to work with a nicer, more experienced crew."
Jaime Celis, Director General, Ampere Manufacturas Electrónicas, said: "We are very proud to represent Community in Mexico, a brand that combines genuine engineering and innovation. Community continuously sets new standards in loudspeaker technology and the reliability of their products is outstanding. We have thoroughly enjoyed the last 25 years and look forward to partnering with Community for the next 25 years with equal passion."