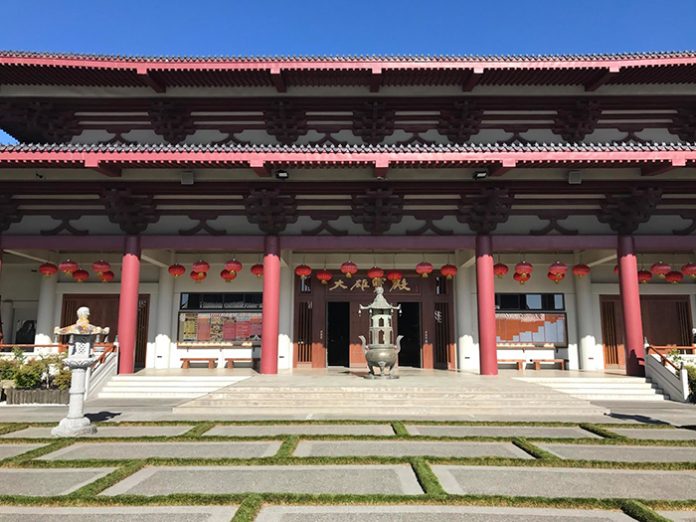 The Fo Guang Shan North Island temple and community centre has undergone a complete refit of its audio systems by integration specialists, AV Expression, with new systems based around Community Professional loudspeakers.
Fo Guang Shan North Island is a large temple and community centre of the Fo Guang Shan Buddhist movement. The largest Buddhist temple in the country, it is located in the beautiful city of Auckland, famous for its yachts, and known as the "City of Sails". The temple and complex were built over seven years and opened in late 2007. The design of the Temple is adapted from the palatial design of the Tang Dynasty, with greyish green glazed roof tiles, maroon stone pillars and vertical slat window frames projecting magnificence, grandeur, cultivation and strength. The courtyard is lined with stone lanterns of the Tang Dynasty, with pine trees, bamboo, cherry blossoms and willows.
With the original PA system deemed no longer fit for purpose, AV Expression was appointed to design and install new audio systems for both the temple and outdoor areas. The design was carried out in collaboration with Hills, Community's distributor for Australia and New Zealand.
Blake Kirby of Hills explained the choice and deployment of the loudspeakers, "The outdoor areas are covered by Community's R.5 loudspeakers, selected for combining speech and music quality with all-weather reliability. Throughout the day they play gentle background music while, for larger gatherings, their outstanding intelligibility and power provides the main PA for microphone presentation."
Kirby continued, "The internal temple is a prayer and worship space with high ceilings and reverberant décor and fittings. For this we chose Community's ENT-FR high performance column line source systems. With wide horizontal and narrow vertical dispersion they are ideal for high intelligibility coverage in reverberant spaces. A lower ceiling section of the room is complemented with Community C6 ceiling loudspeakers."
EASE models were created for both indoor and outdoor spaces to verify the design before installation and AV Expression also provided four wireless microphone systems, along with a networked combination CD and media player.
Kirby concludes, "Using Community, AV Expression has provided the Fo Guang Shan North Island temple with modern solutions. Meeting the multi-purpose use and acoustic and environmental challenges, the temple now has great sounding systems throughout."