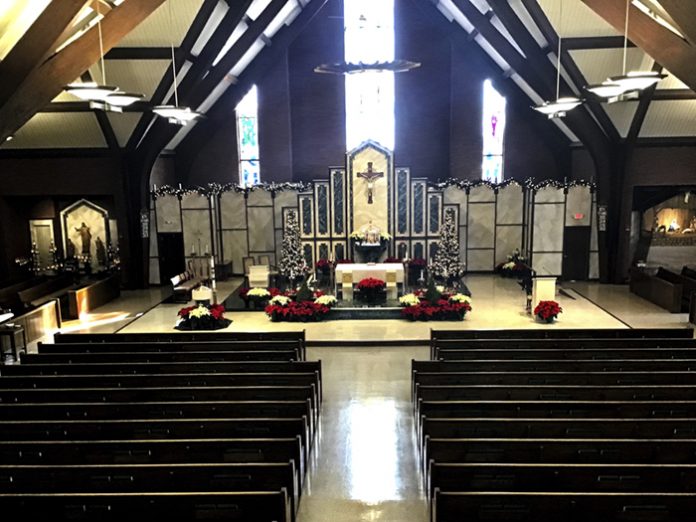 Professional audiovisual systems integrator Sound Designs LLC has completed the design of a new sound system for St. Mary of the Assumption Catholic Church in Hockessin, Delaware. With roots that can be traced back to the 1700's, the current church was built in the 1960's with transepts forming its "T" shaped layout and wooden pews facing a center sanctuary stage area. With a large congregation, the church holds two daily mass services and six weekend services.
A number of contractors were invited to bid for the project, with Sound Designs' Community E Series solution being chosen as the preferred design. John Dezell from Sound Designs explained: "Some proposed hanging array loudspeakers, but this would have disrupted the visual aesthetics of the space and blocked views of the recently installed stained glass windows. With a high, beamed ceiling and reflective surfaces we needed a system that would provide excellent pattern control and aesthetically merge with the architecture. We consulted with Community's technical applications team and decided that slim column line source loudspeakers provided the best solution. Demonstrations were arranged on-site and at the Grand Opera House in Wilmington, Delaware. The sound quality and coverage of the E Series loudspeakers were outstanding and we were subsequently awarded the contract."
The loudspeaker system is primarily used for live vocal reinforcement with periodic program audio and, occasionally, instrument microphones are deployed. The main system consists of two column arrays, each comprising two ENT-FR high performance, line source loudspeakers with two VLF208 dual 8-inch compact subwoofers adding bass support below 200 Hz. The side seating areas are covered by two ENT212 two-way compact column point source loudspeakers. Two ENT206 loudspeakers give additional fill for the front pews and two ENT203 provide monitoring for presenters. A Community networked loudspeaker processor is used for signal processing and loudspeaker crossover.
There are six digital wireless systems operating on the 2.4 GHz band, with antennas mounted on tripods above the sacristy, and one UHF for the wireless altar boundary mic. System mixing and control is provided by a 24-channel digital mixer, with both WiFi and touch screen control. A touchscreen monitor triggers gains, aux channels, EQ, feedback control and multitrack recording to USB. Operating on its own wireless network, the mixer uses a browser to call up the graphical user interface which can be accessed on any WiFi capable laptop, tablet or phone without the need for a dedicated App. A second rack houses amplification, the mixer head end, and a CD player with Bluetooth for guests.
John concluded: "The results are impressive. The sound quality for speech and music is excellent and dB level testing demonstrated very uniform coverage to all pews, with exceptional frequency response consistency."