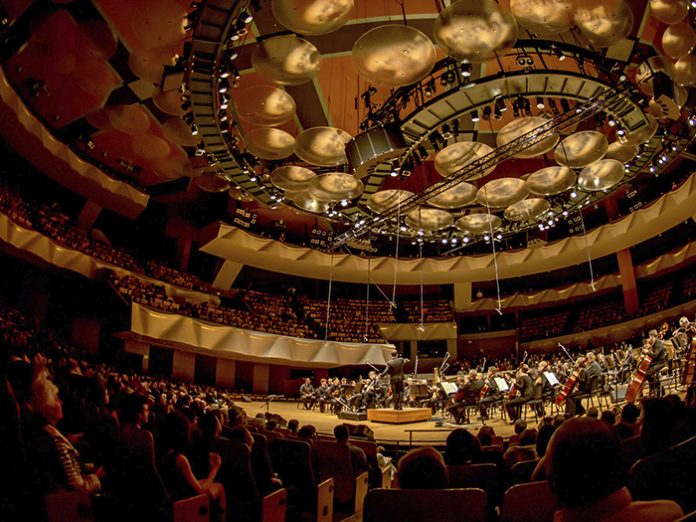 Home to 80 full-time musicians representing more than a dozen nations, the Colorado Symphony is one of North America's leading orchestras and performs more than 150 concerts annually at the 2,700-seat Boettcher Concert Hall in downtown Denver, at nearby Red Rocks Amphitheatre, and across the state. In 2012, the City of Denver purchased a DiGiCo SD7 mixing console as part of a major audio facilities upgrade for Boettcher Concert Hall that also notably included a full L-Acoustics loudspeaker system. With productions growing increasingly complex and technically more demanding over the past seven years, the City once again chose to invest in DiGiCo—this time by upgrading its existing SD7 with a brand new Quantum engine.
For more than 15 years, Aric Christensen has served as Colorado Symphony's head of audio. Seeing that he individually mics all of the orchestra's instruments and typically runs upwards of 100 inputs on a standard show, DiGiCo's flagship SD7 was his primary choice from the very start—as was the recent Quantum upgrade.
"As amazing as it might seem, we had actually started to outgrow our SD7," he shared. "And really, without the SD7, some of our shows would never have been possible. To do as many inputs as we do at a sample rate of 96kHz, there's really no other console out there that's going to have the processing power and right MADI I/O to handle it. I also wanted to do Virtual Soundcheck of 96 channels at 96k, so I obviously needed a lot of ports to be able to accomplish that as well."
As soon as Aric heard about the Quantum engine's forthcoming availability, he was one of the first people to reach out to Group One and DiGiCo saying, "Yes, please!" he recalled. "The fact that it was going to allow our console to be future-proof for probably another decade is what really appealed to me. And now that DiGiCo is starting to announce things like Mustard, Chilli 6, and other Spice Rack offerings, it's really going to be a game-changer."
Knowing that an upgrade of the Colorado Symphony's seven-year-old console was imminent, Aric took a P.O. proposal for Quantum to the City, saying: "It's going to be a significant number to do this upgrade, but it's basically like we're buying a brand new console and getting it for almost a third of the price.' They were able to see the value in it and agreed that it was the smart thing to do, and now it's like our console is brand new again."
The Colorado Symphony most frequently performs in Boettcher Concert Hall at the Denver Performing Arts Complex. The hall, built in 1978, is the country's first "in-the-round" concert hall. No audience member is more than 85 feet from the stage, with more than 80 percent of the audience being seated within 65 feet of the stage.
Along with the Quantum upgrade, Boettcher Concert Hall moved to an Optocore fiber-optic setup and added a large 56-input SD-Rack and 32-input SD-MiNi-Rack, the latter of which is fully equipped with input cards, bringing the venue's rack-based input count up to 88. Two of those cards are the new "Ultimate" Stadius Mic Pre-Amp modules supplying 16 total channels of 32-bit performance.
"I loaded the Stadius pre's into my first two SD-Rack slots, which are my 'money' channels—that's where I'm routing my concertmaster for an orchestra show, and guest and solo artists for pop shows," he said. "DiGiCo's standard SD cards sound great, of course, but being able to A/B the two reveals how smooth, rich, and dynamic the new ones are—especially listening back to those recorded channels on near-field monitors in the studio. Julian Pichette, our A2 and recording archivist, and I were both amazed by how incredibly lifelike those tracks are. There's just something more to them—kind of like the difference between listening to a regular CD and a Super Audio CD."
One of the many pleasant things about upgrading to the new gear, Aric reported, has been how seamlessly the segue into the new tech has gone: "I'm pretty amazed that DiGiCo figured out a way to make everything that was great about the SD7 new again, but still comfortable and familiar. Even though they've obviously changed a lot under the hood processing-wise and it's really a brand new product, DiGiCo was very intentional to make sure that the workflows and feel of the original SD7 would remain, which was important to those of us who have been using the console for years. At the same time, Quantum brings so much potential for new capabilities and features. The next few years with this console are going to be very exciting as the manufacturer continues to roll out new tools. With Quantum, DiGiCo remains ahead of the curve and, once again, I feel like I'm truly on the forefront of fidelity, technology, and the ability to do anything that's asked of me."