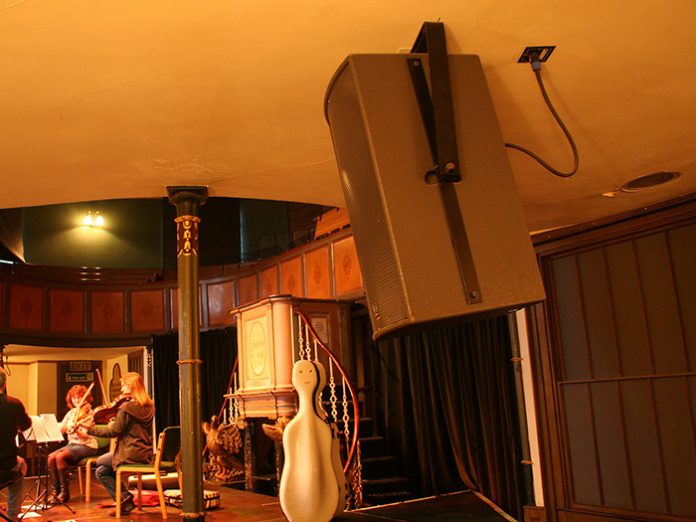 When freelance Sound Engineer, Stu Hunt, took over Worcester-based Insert Audio from its owners in January 2014, he didn't only inherit classic Martin Audio equipment, but also a contract to service the technical requirements of 355-capacity local venue, Huntingdon Hall, which is also equipped with Martin Audio components from yesteryear.
"This installation was completed 15 years ago by John Brown's Limit Audio and all the equipment – including W3P, S218, EM15 and LE12JB – is still going strong," said Stu. "We maintain it every year, but have never had a single fault with any of the gear to date. Service generally amounts to little more than cleaning the amp rack, or repairing the occasional pin on the EDAC."
As a rental company Insert Audio also holds a vast inventory of Martin Audio components, including W8C, WSX, WS2A, W3, F12, LE12JB, LE400 and LE200. "The reliability of these classic systems is beyond doubt," he said.
Stu has been associated with Insert Audio since 2010, when he became self-employed; the company began trading nine years ago and Stu took over the company two years ago.
The Martin Audio timeline extends right back to the iconic F2B and RS802 when he began working with John Brown, another Martin Audio account holder, who stocked the LE12JB and various Wavefront components. Most of these were duly absorbed into the Insert Audio inventory.
"I am proud to have Martin Audio kit and use it on a wide range of events throughout the year, such as a pantomime for Worcester Live, Linton Festival in Ross on Wye and The Great British Beer Festival at Olympia. I have made H3T a standalone system for folk gigs and events which do not require additional low end power from a sub, and some of the events I would previously have used a stack of H3T for I now will begin to upgrade to W8C," Stu continued.
As for Huntingdon Hall, a former Methodist Church, this listed building is operated by Worcester Live and features balcony seating.
The main auditorium sound is distributed by two inverted W3P's, one flown either side, with a S218 subwoofer concealed under the stage in the centre.
Two further W3P speakers in the top cluster are on a truss rigged from the ceiling, with four EM15's distributing audio to the sides of the stage and in the roof.
Stu concluded: "I am proud to still be using this classic Martin Audio kit, which is as capable today as ever. More importantly it's still supported – so should I ever need it I can always get recone kits, diaphragms or paint."