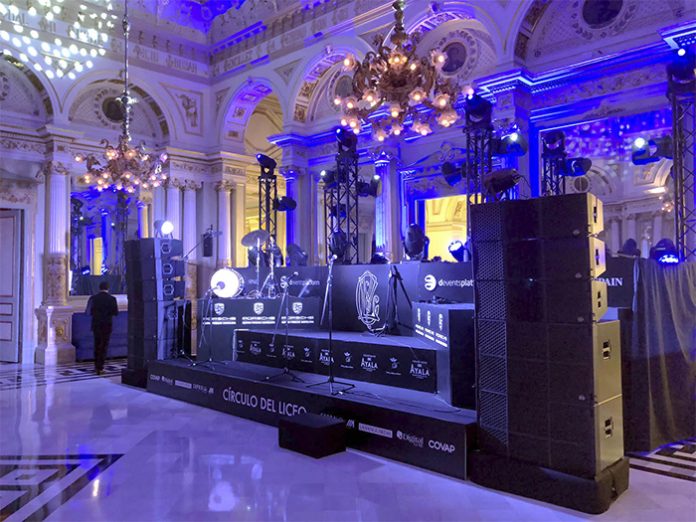 Put on each year by the Círculo del Liceo, a private English-style club founded in 1847, the invitation-only masquerade ball takes place in Barcelona in the Liceu Theatre within the historically ornate ballroom known as Sala dels Miralls – "Mirrors Room."
In a high cathedral ceiling room built almost exclusively with mirrors and solid marble, the audio acoustics an extremely hard to overcome. That's why the promoters of the masquerade ball have decided to fix the issue with Clair Brothers.
VTècnics, Clair Brothers distribution partner in Spain, recommended using the new Clair Brothers C12 speaker system to combat the daunting acoustical challenge.
Josep Maria Serra, VTècnics production manager, explained: "An event that caters to high-society elite is expected to have everything perfectly executed. This includes the quality of the sound in the room. I knew what the challenges were; how high reflections make vocals impossible to understand and how hard surfaces muddy the music, especially the low-end. I also knew what speakers would solve the problem: The Clair Brothers C12s with iS218 subwoofers."
Additional challenges are a result of the basic design of the Sala dels Miralls. Due to its grand artistic architecture, hanging the P.A. from the ceiling is expressly forbidden; as is building the system up from the ground, an aesthetic impossibility.
The only other option was to stack the P.A., which can make things more difficult for obvious reasons of close proximity to attendees of the ball. "Fortunately, the C12 is the only line array pleasant to hear at very close distances," said Josep. "So, having some of the audience standing or dancing less than one meter from the stack is not an issue at all."
Comparisons to the acoustics at past events in the "Mirrors Room" by everyone familiar with the venue, were quick to be made: This sound has never been achieved in this room before.
Francesc Güell, grand public-address systems fine-tuner and partner at VTècnics, supported the claim: "The C12 system sounds so pleasant. The drummer's hi-hats and crash cymbals were precise and not harsh at all at such close distances and the details of each instrument were perfectly defined. And the iS218 was a tremendous help with the low-end thump. The masquerade ball has never sounded as good as it did this year because, well, the Clair Brothers C12 is a much better system than we've ever had before. It's that simple."