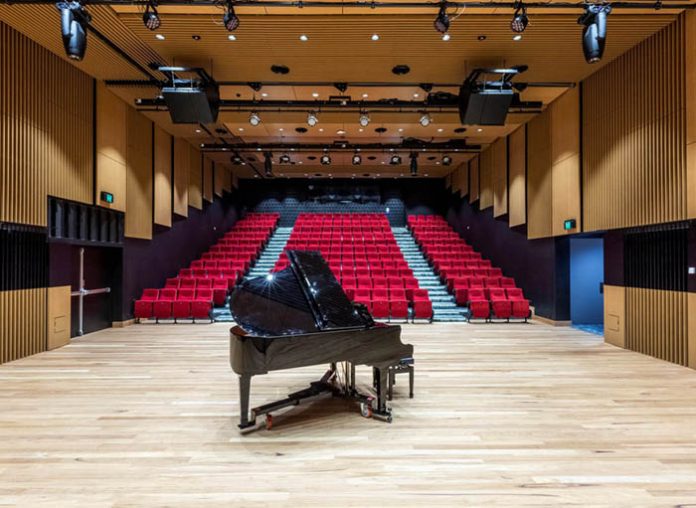 Saint Stephen's College is an independent childcare to year twelve campus on the Gold Coast in Queensland, Australia, that strives to be the best at every level. Co-educational in curriculum, the school is developing self-directed, determined, courageous and skillful young men and women of substance who will make a positive difference to their communities. A key value is integrity of character, where the pursuit of continuous improvement is priority. This extends beyond education to the physical facility itself, and why, when the opportunity to build a $6.8 million, state-of-the-art Center of Music Excellence for its students, the instant choice for the new sound system was a Clair Brothers system. 
This recent installation represents the second for Clair Brothers at Saint Stephen's. Tony Marshall, event producer at Saint Stephen's College, explained: "I worked in the corporate events and entertainment industry for many years and have used Clair Brothers products many times. The sound quality is always outstanding. I truly believe that when you hear people take the time to comment on how great the sound is at an event, that you know you have a winner. So, when the time came to upgrade the audio system in The Goda Firkins Auditorium at Saint Stephen's College, Clair Brothers was my first choice. And of course, they were my first choice for sound at our new music center, as well. The results have already been noticed by everyone."
The building, used by more than 350 students, is comprised of a 220-seat recital hall, rehearsal studios, classrooms, specialized instrumental teaching spaces, a percussion studio and flexible learning areas. This system, designed to both support a wide variety of musical performances and to retain the aesthetically-pleasing look as part of the recital hall's architecture, consists of four (two per side) Clair Brothers CAT115's (Curve Array Technology) along with two CB-D40 amplifiers and Wedge-Ps for stage monitors.  
"The Music Centre has a ceiling height of over nineteen feet, with a large HD projection screen on the backstage wall. The aesthetics and vertical system height/visual footprint were important to keep to a minimum without compromising any audio quality and coverage throughout the venue. The Clair Brothers CAT115 was the perfect system solution, delivering precise vertical and horizontal dispersion sound throughout the audience seating area and bio booth, with no site-line issues from the upper seating level to the stage and HD projection screen," said Tony.
The CAT system is a full range system (frequency response +/- 2dB 39Hz-20kHz) that doesn't require any subwoofers for general day to day performances. However, with the programmed system LAKE presets, it allows for the addition of CS18s for concerts, rock musicals and special effects. The CAT115 is two-way bi-amp, and to allow complete flexibility for gain shading of the bottom cabinets to suit different stage configurations the two CB-D40 amplifiers provide each speaker component with its own amp channel, LAKE processing, level control and limiting. The Wedge-P stage monitors were the right fit for the center's stage being very low profile and producing headroom for demanding artists and rock concerts.
Wayne Grosser, Clair Brothers' expert audio consultant in Australia explained: "Fortunately, the new room presented no ceiling height challenges as I worked in tandem with Tony from the very beginning of the project to ensure the correct long-term system solution was designed for the center's audio needs. The CAT system was the perfect fit for the application." Tony added: "Wayne made sure to design and install the system to include multi-send foldback and the ability to add subs when required because our sound system must be able to handle a wide variety of performance types – from simple playback with a vocalist and a piano, to choral groups, string ensembles, orchestras and jazz, funk and rock bands. Thanks to Wayne for designing such an incredibly versatile and flexible system for Saint Stephen's. The consultation process and the support that the college receives from Mr. Grosser goes above and beyond and always exceeds expectation. I'm constantly recommending Clair Brothers to my peers and associates in what is a very competitive and changing audio systems business."
 Since the installation Tony often receives fantastic feedback from the audiences, college staff and students who are the regular users of the room. The college business manager has been so impressed with the sound that she regularly brings in visitors – including the college's Board of Directors – just to hear the Clair Brothers system in action. "Everyone is so impressed with the powerful yet clear sound," Tony concluded. "They love it. I love it. What more needs to be said?"