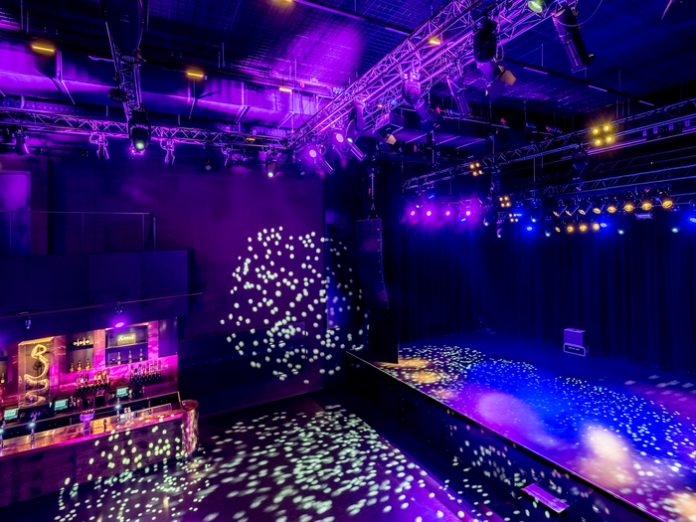 As part of their recent move to expand Podium Victorie's audience capacity, the owners of the cult Dutch club recently decided to move to an all-new inner city location. To make the move complete, the venue's owners wanted to install a lighting rig to provide visiting bands with the most modern powerful high-energy support. To this end, Dutch distributor Rolight upgraded the club's stage lighting using Chauvet Professional Maverick, Rogue and COLORdash fixtures.
A total of 20 chalet Professional Maverick MK2 Spot LEDs, 61 Rogue R2 Washes, 6 Rogue RH1 Hybrids and 36 COLORdash Par-Hex 12 RGBAWUV fixtures were specified for the stage.The versatile lighting rig ensures a practically unlimited selection of looks to fit a whole manner of needs, from bold rock 'n roll looks to subtle theatrical scenes.
"The combination of Maverick LED spots, and Rogue LED washes and hybrids creates a perfect concoction of lighting for the main stage," commented Rolight Project Manager Christian Borgers. "And thanks to the competitive price point of the fixtures, both the lighting crew and management could be happy about the installation."
Chauvet Professional Maverick fixtures are used as back lighting, as well as front lighting for the band and effect lighting on the dancefloor. With its 440W white LED engine, a CMY + CTO colour system and wide zoom range, the powerful Maverick provides the punchy energy needed for high-octane rock shows.
"The fixture is a true workhorse," commented Christian. "Its super-bright beam cuts through any wash, and the optics keep the gobos very crisp all through the beam field. Even putting a mildly saturated colour over a projected gobo will not lead to colour shadows or uneven sharpness of the image."
Complementing the Maverick fixtures is a selection of Chauvet Professional Rogue R2 Wash fixtures positioned from trussing upstage, downstage, stage left and right to the main grid above the audience. While the majority are used in the main grid pointing down into the audience, 14 pieces are mounted close to the walls and under the balcony to cover all angles.
"The Rogue R2 Wash quickly shifts from a powerful parallel beam to a wide wash, so they're great for both colourful mood lighting and dynamic beam effects," commented Christian. Adding a different wash element to the overall look of the stage is a collection of COLORdash Par-Hex 12 RGBAWUV and COLORdash Par-Hex 7 RGBAWUV fixtures.
"The six-colour LED system of the COLORdash is great for creating a basic colour mood upon which to build," continued Borgers. "They also serve as a great foundation for club nights and events, where evenly distributed wash lighting is required for hours on end."
On the club's smaller stage, Rolight installed 26 Chauvet DJ Intimidator Spot 155 units. Positioned in a grid formation to provide the stage with sufficient coverage and eye candy, the fixtures form the central visual element. "The Intimidator fixtures ticked all the boxes for the second stage," continued Christian. "Not only do they provide a compact and cost-effective solution to provide energetic looks, they offer lighting designers plenty of options, thanks to their built-in effects and rotating gobos."
"The Chauvet fixtures are proving to be as easy to handle and as accessible as competitor fixtures," concluded Borgers. "With fixture personalities already present in all major lighting consoles, and the fixtures meeting – and even exceeding – technical and creative specifications, the new improved Victorie is ready for any occasion."