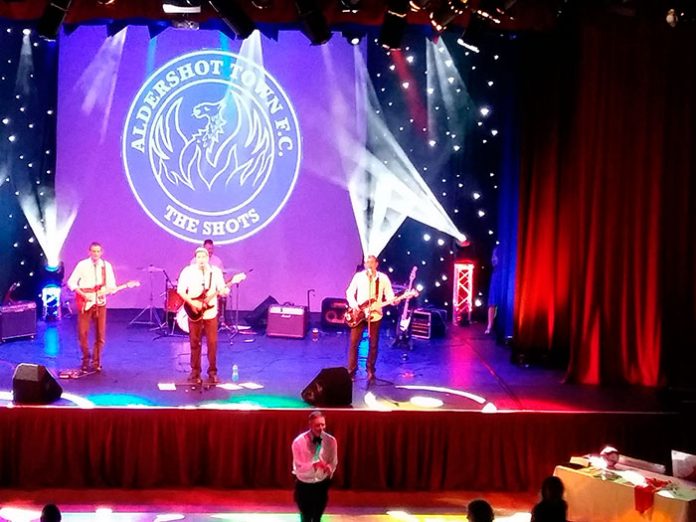 Named after The Duke of Edinburgh, the Princes Hall is a multi-purpose civic venue with a national reputation. For many throughout the UK, however, the 600 seat theatre in the heart of Aldershot is best known for its hugely successful pantomime run each Christmas. There was no "happily ever after" ending in sight, though, for the facility's ageing lighting rig – at least not until a collection of affordable Chauvet fixtures came to the rescue.
Now with the new LED technology available it was definitely time for a refresh. The Princes Hall was built in 1972, and the lighting rig had only a few upgrades in the past few years. This year, the venue took the major step to upgrade its lighting system and turned to equipment supply specialist Stage Electrics. Despite a limited budget, Stage Electrics was able to supply a comprehensive lighting rig, including 10 Rogue R2 Spots, six Rogue R1 Washes 22 SlimPAR Pro RGBA par fixtures, 12 SlimPAR 64 fixtures, three SlimBANK UV-18 fixtures and six Shocker 90 IRC strobes.
"Although we required a host of new fixtures to transform the stage for various purposes, like all theatres we were constrained by how much we could spend," commented Kevin Andrew, Technical Manager at the Princes Hall. "We needed small, lightweight fixtures with powerful light output. Luckily the Rogues and the other fixtures fulfilled all our requirements.
"I worked closely with Paul Roughton of Stage Electrics. He spent a lot of time demonstrating a number of Chauvet fixtures so we could check that the specifications would work in our venue," he continued. "The Rogue R2 Spots from CHAUVET Professional were specified for the main overhead truss on stage, with a further four on the floor to give full stage and cyc coverage. The R2 spots are perfect for us, as they are lightweight, allowing us to rig them anywhere we might need them for extra effects. They also have huge light output for an LED unit, which provides a really great looking beam work and intense colours."
An additional six Rogue R1 Washes were rigged overhead on stage to give a general wash for the venue at large. Kevin praised the range and versatility of these RGBW LED fixtures. "The R1 Washes can hit anywhere within the auditorium and provide good stage cover," he said. "Moreover, they offer the added bonus of being able to act as beams."
To provide additional sumptuous stage wash, Kevin specified the CHAUVET DJ SlimPAR Pro RGBA and SlimPAR 64 LED par style fixtures. "The great thing about the SlimPARs is that they provide the classic warmth of the traditional theatre par cans, ironically, without giving off any heat," he said. "The colours are so vivid, and thanks to the LED light source, we'll be able to save a lot in electricity costs. We specified the SlimPAR fixtures so as to be used for uplighters and floor back light for dance shows, which Princes Hall hosts regularly."
Commenting on the overall installation, Kevin concluded: "Our investment in the new fixtures has been extremely worthwhile. There have been so many advances in lighting technology since our last rig update, it was important to upgrade our capabilities so we can continue to play a vital role in the artistic life of this community."