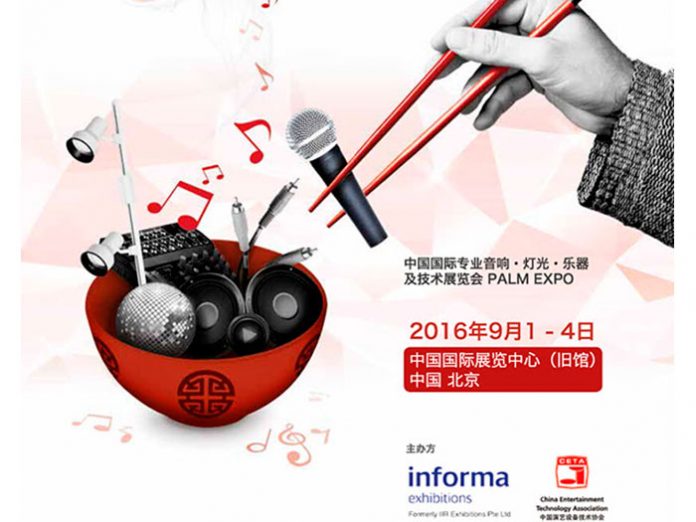 The longest running and most established networking tradeshow on Pro Audio, Light, Music & Technology returns on the 1st – 4th September at the China International Exhibition Centre, which brings a whole new level of experience during the 3 and ½ days event. PALM Expo will open her door from 9.00am to 5.00pm daily from the 1st to 3rd September and on the last day (4th September) will end by 12:00 noon with last admission at 11:00am.
This year marks the 25th Anniversary of PALM Expo and the organising committee together with the invited guests; will be commemorating this memorable milestone with a big bang during the tradeshow. An estimated number of over 1650 guests will be invited to the celebration dinner, including selected high-end brands in the industry putting up a Lighting and Audio show at the dinner; specially choreographed by the renowned Lighting Designer, Mr. Sha Xiao Lan and his team.
Look out for the series of award winners for the following categories during the Anniversary dinner. A panel of judges make up from the industry experts has been elected to select the winners in addition to the online voting. The winners of the various categories will be announced at the dinner. The catergories are as follows:
China's performing art industry meritorious figure
China's performing art industry outstanding contribution leaders
China's performing art industry most valuable brands
China's performing art industry innovative enterprises
Occupying a total exhibition space of 40, 000 m² with more than 600 exhibiting companies from over 20 countries and regions, PALM Expo 2016 continues to play host to the industry leading brands both local and international alike.
Perennial favourites like Allen & Heath, BOSE, Christie, dnp, Extron, JBL, d&b audiotechnik, Electronic Threatre Control, High End Systems, ART, Avolites, Coef, EAW, RCF, Running man, Powersoft, Wharfedale, KE Audio, KS Audio, L-Acoustics, Meyer sound, LAX, Sennheiser, Beyerdynamic and Yamaha, SBS, Antari Lighting, Columbus Mckinnon, Montarbo, Wolf Vision and Beta 3 etc, to name just a few, will be displaying their latest products and technologies at the show floors.
Another highlight at PALM Expo; the annual conference will be taking place on 31st August at the Radisson Blu Hotel Ballroom and the main focus of this year conference theme is on Application of New technology at Performing art venues. International speakers from America and Germany will be speaking and highlight the latest insights on performance art venues technology during the conference, in addition to local industry expert from China Attendees to the event is however by invitation only.
Over 200 representatives from the following sectors: performing arts venue, theatre groups, architectural firms, cultural and creative companies, designers of entertainment equipment institutions and enterprises, technical application personnel and related art research, professional institutions students and teachers, have confirmed their attendance and this year delegates have a better mix from various countries such as United States, Germany, Brazil, South Korea, Japan, China and ten other countries to-date.
The above sectors have been earmarked as future growth segments in the next few years with abundant of business opportunities waiting for industry players to capitalise. Beijing for example, is a city well known for its rich culture and art market, and recent market research revealed that the capital city has reached new heights in China's economy. The industry was measured 279.43 billion worth in 2014, a jump by 8.4 percent compared to 2013. From statistics shown, the Academy in Arts grew more than 10 music conservations and over 50 universities offered Art degree, professional troupes and performance groups expanded to 90 numbers, thousands of training institution in Music, over 300 qualities and 120 above standard performance venues that fetched a total revenue of 1.5 billion RMB – topped record in box office with 295 stages and sitting 10.1 million in 2014. Facilities without exception is segregated into 20 public arts and centres, 300 stations broadcasted approximately 30,000 events welcoming more than 6 million visitors annually. Besides, Beijing hold over 150 cinemas and 800 screens knowing China is the second largest film market worldwide.
As of 2020, 20 culture and creative industry zones in theatre play, music world, film and television production shall be planned and constructed, expanding its development in Beijing as China's hub of culture and crossing of countries for publicity to widen business opportunities.
To encourage continual learning and enhance visitors experience, PALM Expo has collaborated with exhibiting companies to provide free technical seminars on new products and products workshop for trade visitors at the General Service Building.
To date, over 20 sessions have been confirmed and should not be missed! Further details will be made available nearer to show dates.
https://www.palmexpo.net