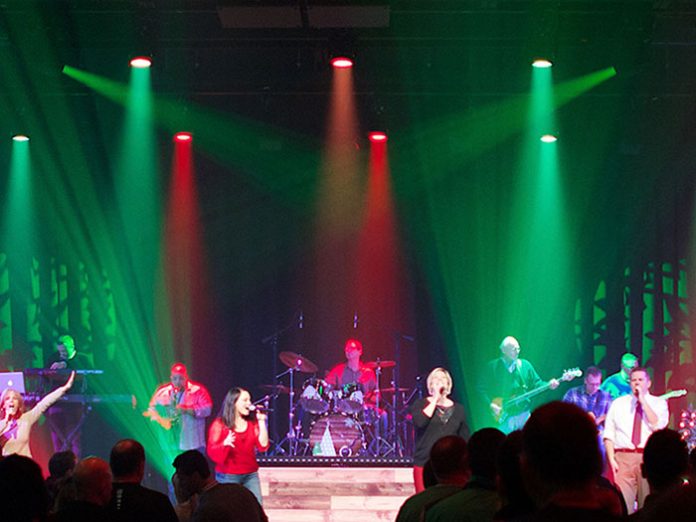 They say history repeats itself. Such was the case one Sunday in 2013 when a group of worshippers gathered in the auditorium of Hamilton Southeastern Junior High School for the first service at Northview Church's Fishers campus. In so doing, they were repeating steps taken 33 years earlier, when 30 people met in the cafeteria of Carmel Elementary School to plant the seeds for what would become a multi-campus church that draws an average of 7,000 worshippers a week, recently refurbished with new audio and lighting systems from Chauvet Professional.
"This is a dynamic church that has continuously grown to serve worshippers," said Duke DeJong, Vice President of Systems Integration at CCI Solutions. "The church has five campuses throughout central Indiana. The main Carmel campus has a 2,500-seat auditorium, and now each of the portable campuses is getting its own permanent home with 600-700 seat auditoriums with full youth ministry spaces. Lighting systems that create an engaging environment, while saving energy and being low maintenance, are an essential part of the church's plans to reach people at its campuses."
The CCI team, led by Project Leader Mike Sessler, installed six Ovation E-910WW ellipsoidals with 26° lenses and 13 Ovation F-95WW Fresnels at the Fishers campus, along with six Rogue R2 Spot and 12 Rogue R2 Wash fixtures. "We placed the Ovation ellipsoidals and Fresnels over the stage for front lighting," said Mike. "Some of the moving Rogue fixtures were flown over the stage for colour and eye candy, while other units were placed on the stage deck for aerial effects."
Flexibility was a key factor in the fixture selection process at the Fishers campus, which combine video recorded sermons from the main Carmel campus with a variety of other worship components every Sunday. "The mainly Chauvet lighting rig has done a great job of helping the church create the kind of welcoming atmosphere that makes people at this campus feel connected to the Carmel campus," said Mike. "The Ovation fixtures give us a great white key light that even looks great on camera, and the Rogue fixtures are ideal for the more contemporary looks the church goes for at its campuses with lots of dynamic colour and aerial beams."
Another key in the decision process was making the rig extremely low maintenance, which led to the selection of an all-LED rig. "This campus doesn't have an on-staff technical director, so all ongoing maintenance is covered by the team at the main campus," said Mike. "It was a high value to keep the need of ongoing maintenance, such as re-lamping fixtures, to a minimum."
Northview Church has been so happy with the performance of the lighting system at its Fishers campus that it is having CCI install a similar rig at its campus in Lafayette, Indiana. History, it seems, will be repeating itself yet again.