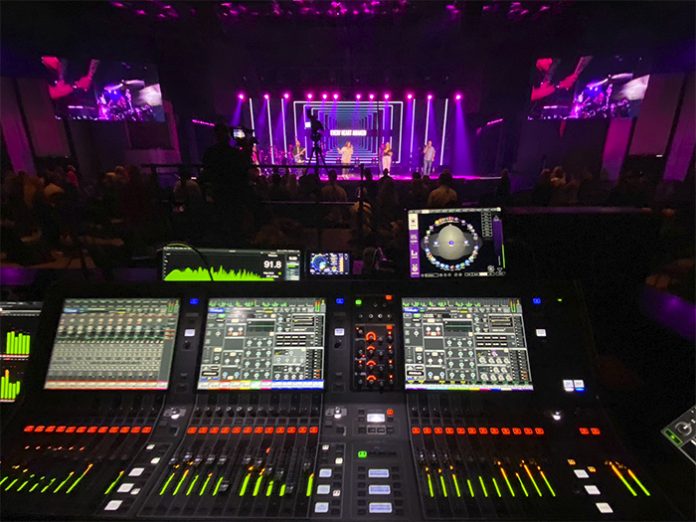 Casas Church launched in the Tucson area in the early 1960s and has kept moving forward ever since, pacing the vibrant region's own continuing growth. They've done the same with their audio technology, becoming an early adopter of the KLANG:fabrik monitoring solution several years ago.
Most recently, however, the church became the very first user in North America to acquire the new KLANG:konductor immersive in-ear monitor mix processor. The system, which was purchased through AVLX in Franklin, Tennessee, is now paired with the church's existing Yamaha Rivage PM5 front-of-house console and Shure PSM 1000 in-ear monitor system.
"We upgraded our audio systems in 2020 with the new console, and we integrated three KLANG:fabrik units into our workflow, and they were great," says Casas Church Production Director Tyler Moss, who weekly mixes the church's worship music band of six musicians and six vocalists with help from his dedicated group of volunteers. "We set them up in a cascade configuration, and in the engineer mode the FOH mixer could monitor every musician's mix. They were a great addition to our audio and meant we didn't need to use a separate monitor console. But the arrival of the KLANG:konductor has taken us to a level even beyond that."
The new KLANG:konductor delivers 16 immersive mixes and processes 128 input signals at up to 96kHz at an astonishing internal latency of less than 0.25ms. The 3U device is equipped with three DMI slots, allowing users to route between the immersive mix engine and convert between different DMI formats, e.g. Optocore, Dante or MADI, with each DMI card offering up to 64 input and output channels at both 48kHz and 96kHz. A front-mounted headphone port enables engineers to directly connect their headphones, or even low-impedance in-ears, and route their console's cue output to it and seamlessly switch to a KLANG cue via the app.
Moss, who installed the new unit himself, says the single KLANG:konductor has taken the place of all three KLANG:fabrik units. In the process, it has increased the church's available input count for monitoring while further streamlining its audio workflow and improving the app experience for the musicians and vocalists using the KLANG:app to control their individual mixes—all at 96k and connected via Dante networking.
"We have a higher channel count and everyone has EQ without it eating into available processing power, plus there's virtually no latency," he says. "Our volunteers can access every input on an iPad, and the KLANG:konductor has really improved everyone's experience—our tech team, the musicians, the singers, and even the pastor, who has his own monitor mix for an IFB."
And don't worry about those three KLANG:fabrik units—Moss says they'll all find a home within Casas Church's existing audio infrastructure. In fact, one has already been installed in the youth worship venue for the praise team there. "The whole KLANG concept has been great," he says. "It's made our audio workflow more efficient than ever."