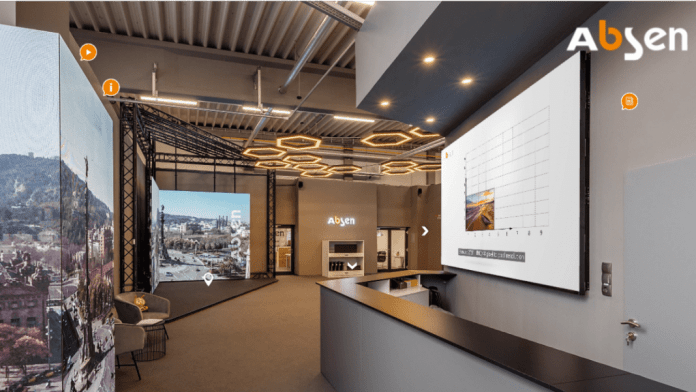 Absen is primed to host its first public event held at its European headquarters in Mörfelden-Walldorf near Frankfurt Rhine-Main, Germany, on 15 to 16 March 2022 (10am – 4pm CET).
Situated just a 15 minute drive away from Frankfurt airport, the new showroom will be open to the public for a full two days of discussion and market sharing.
The first day of the event (15 March) will offer a number of scheduled seminars where visitors can delve into discussions surrounding MicroLED, corporate immersive spaces, and what Absen has planned for 2022 and beyond.
Day two of the showroom open day (16 March) will act as more informal 'drop-in' opportunity for partners, distributors and users to speak with regional business development managers and access seminars throughout the day if they wish.
There will also be a chance to explore and interact with the popular Absenicon series of fine pitch indoor LED and the renowned Clear Cobalt Series, which recently launched in autumn. The CL1.2 model of this series will be showcased during the event, which features Absen's custom HDR image algorithm technology, to render optimum peak brightness and contrast for every frame image, wide colour gamut and full flip chip technology. Visitors will have the opportunity to learn first-hand about the capabilities of these products with Absen professionals.
"For the past two years, we have only been able to host private events in our new European Showroom," said Absen European Marketing Sirector, Jess Golding. "We are thrilled to be hosting our showroom's first in-person event. We really look forward to seeing our valued distributors, clients and peers at the first event of its kind in Germany."
To attend Absen's showroom launch and open day, visitors will need to comply with current health requirements and provide proof of double vaccination or proof of a negative Covid-19 test upon arrival.
Invitations are limited. To attend this event, please register your interest by clicking here.