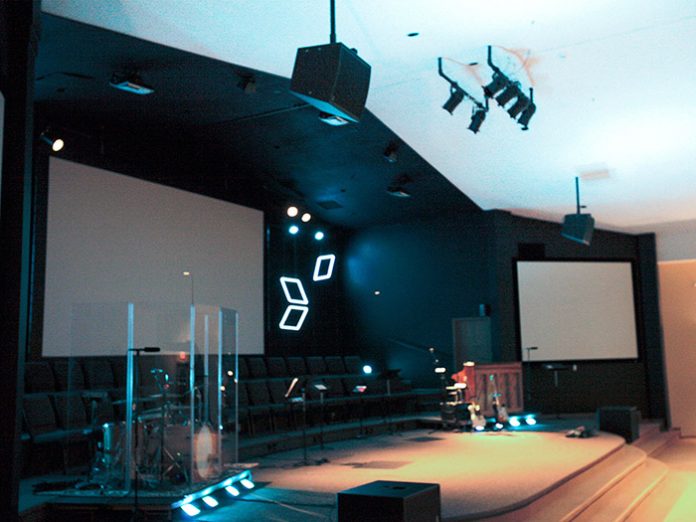 Capitol City Church has expanded to two worship services and eleven Adult Bible Fellowships, along with a thriving Wednesday night ministry. The church offers a wide range of programs for its congregation and, to ensure the best possible music reproduction capabilities and a high level of speech intelligibility, they recently upgraded their sound reinforcement system.
The new setup includes two TrueLine X2i-P All-In- One Compact Line Array enclosures from the catalog of Greensboro, NC-based WorxAudio Technologies a division of PreSonus Audio Electronics, Inc Zygo Integrated Solutions of Urbandale, IA—a sound, video, and lighting systems integration company aiding churches in the intelligible and effective presentation of the Gospel—was contracted to handle the facility upgrade. After meeting with church management to ascertain their requirements, Eric Bishop, CEO and Lead Consultant for the company, elected to deploy two WorxAudio X2i-P line arrays. Bishop discussed the project and his reason for selecting the WorxAudio loudspeaker enclosures.
"Capitol City Church offers two services each week in the main campus sanctuary," Bishop explained. "These services are contemporary in nature and evolve around spirited, motivating music accompaniment. This upbeat worship style requires a sound reinforcement system that not only provides clear and highly intelligible dialog presentation; it demands the system be capable of accurately reproducing music. The congregation size is typically in the 300 – 400 person range, so we wanted a setup that could comfortably provide coverage without being visually distracting. The WorxAudio X2i-P was the perfect solution".
The WorxAudio X2i-P incorporates two medium format exit compression drivers coupled to a stabilised proprietary FlatWave Former that delivers clear, penetrating high frequencies over a predictable and controlled coverage area. The X2i-P has a horizontal pattern of 160 degrees and a vertical pattern of 30 degrees. Quad 8-inch cone transducers coupled to the Acoustic Integrating Module minimise comb filtering throughout the entire operating range. The system is powered by the WorxAudio PDA-2000 power amplifier.
At Capitol City Church, the two WorxAudio X2i-P enclosures are suspended with schedule 40 pipe over the left and right front edges of the stage area. Low frequency support is provided by two ground stacked subwoofers that remain from the previous loudspeaker assortment.
When asked about those characteristics that made the WorxAudio X2i-P loudspeakers the ideal choice for this project, Bishop offered the following, "The original speaker system consisted of a centre cluster of five underpowered 12-inch speakers. The layout of the cluster and the coverage pattern of the individual speakers was not adequate for the width of the room, so there were dropouts throughout the space and it was very difficult to understand dialog. When we brought the client a WorxAudio loudspeaker to listen to in their space, they immediately realised their system lacked intelligibility."
"The X2s provide more power than the prior system—without compromising clarity," he continued. "The two WorxAudio boxes covered every seat in the room, including the sound booth in the balcony. With the installation of the WorxAudio loudspeakers, there isn't a bad seat in the house."
Bishop was equally impressed with WorxAudio's customer support services. "I have always been pleased with the level of support we get from WorxAudio's sales and technical team members," Bishop reports. "There has never been a question I haven't been able to get answered in a timely manner. When we need fast, responsive support, I know we can count on WorxAudio."