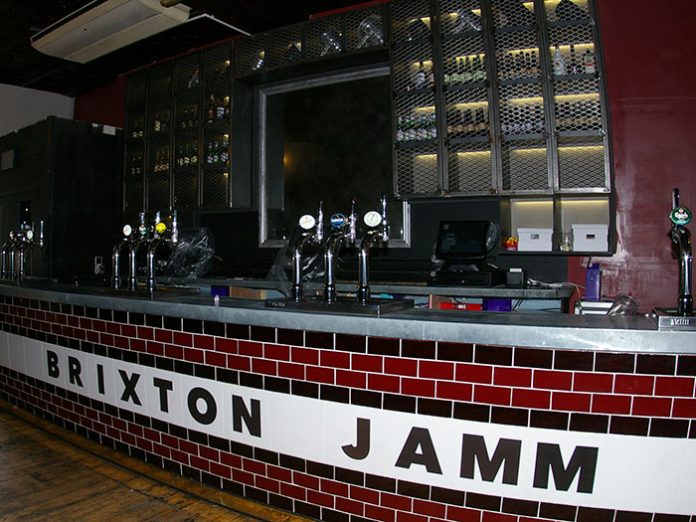 Martin Audio is pleased to report the first UK installation of its MLA Compact Multicellular Loudspeaker Array — as part of a £350k refurbishment of popular Brixton live music/party venue, Brixton Jamm.
Supplied and fitted by Martin Audio dealer, Old Barn Audio (OBA), the Kent based specialists have complemented this potent concert system in the upgraded back room with a similarly high SPL DJ and playback system in the adjacent bar, using Martin Audio's new CDD Coaxial Differential Dispersion technology.
Ian Gough, who co-owns the venue with Jonathan Allen, says the whole turn-around, giving the Brixton Jamm an expanded 650-person capacity, took place inside three weeks.
OBA Director, Phil Clark commented: "The idea was to reorganise how we present ourselves. We were aware of the presence of MLA at high profile events like Glastonbury and British Summertime in Hyde Park, and realised that it was appearing increasingly on riders. By offering MLA it would put the venue on the small band circuit with promoters and agents."
The owners reviewed other premium brands but have backed Martin Audio frequently over the 17 years they have owned the venue — first with a W8C / WSX system before more recently adding a pair of Martin Audio XD15's from Old Barn Audio.
Phil continued and spoke about how it was because of the success in selling Martin Audio in the past that they were given the nod. A MLA Compact systems demo was initially loaned for evaluation, which was well received by everyone, especially the artists coming through.
The system he and partner Neil Kavanagh designed is based around a conventional stage proscenium system, three MLA Compact elements a side, with a pair of arrayed Martin Audio CSX218 direct radiating subs under the stage apron.
On stage musicians have the option of four classic Martin Audio low profile wedge monitors and an LE1500, while a Martin Audio S18 is used for drum fills. And when the stage reverts to club mode, the XD15 cabinets are pressed into service for DJ monitoring purposes, frequently supplemented by the S18.
In view of the low ceiling, OBA designed bespoke flying frames so that the array could be trimmed as high as possible, and then used Martin Audio's proprietary display software and VU-NET to tune the system. Phil explained that the display plots the room and predicts the splay angles and this is then transferred to VU-NET for control. OBA analysed and time aligned the room using Smaart software to further ensure optimisation.
In the main bar room, dominated by an imposing brick style frontage, they have distributed six CDD12 (1×12") full-range speakers and two single 18" WS18X floor-mounted subs, on which are pole-mounted two XD12, facing back to the DJ console for monitoring purposes.
Signal processing remains in the Martin Audio domain since presets are stored in an Engineer 818 (8-in/8-out) DSP for both daytime BGM (accessed via a wall panel at the bar) and the main DJ. Live music can be routed from the main room if necessary where again the presets have been tuned in and locked out.
Speaking of MLA Compact, the venue's Technical Manager and Sound Engineer, Stuart Crossland gave an overall view of the system: "We've received great feedback. The system is very responsive, providing really even coverage, and there are added features that conventional line arrays do not have. It is nice to have a system no-one else has, plus it's a touring system so bands were happy to use it."
Situated on the main Brixton Road the history of Brixton Jamm has seen the building take many forms. Once a travellers' inn in the 18th century, it was known as Ye Old White Horse from the 19th century until owners Ian Gough and Jonathan Allen purchased it, turning it into a multi-purpose music venue. It has been designed in 'shabby chic' style by interior specialists Halo.
Aside from investing it with superior audio, the venue have created an outside terrace to give it a visual relationship with the enlarged back bar, which in turn now includes a backstage Green Room and dressing rooms.
Phil concluded with the following: "MLA Compact was the obvious choice for them; it's cutting edge, rider friendly and reasonably priced, indeed, the system will seriously enhance the venue's reputation. It is a privilege to have carried out the first MLA Compact installation in the UK and to have done so in such a prestigious venue with so much history."