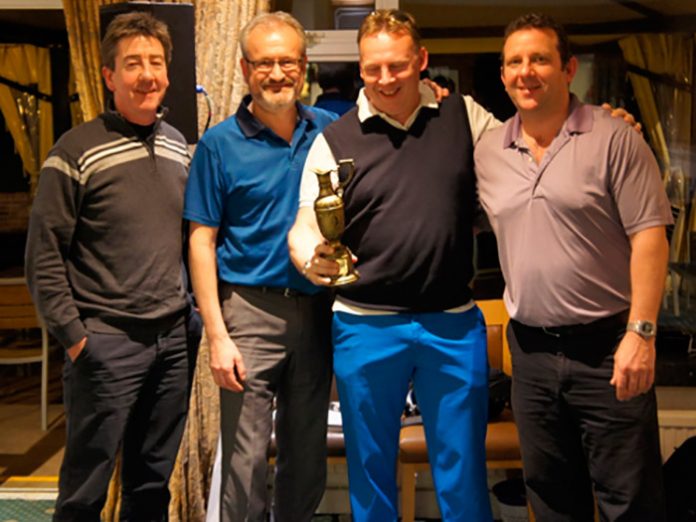 A bright sunny April day saw the 6th Annual Behind the Scenes UK Charity Golf Day kick off in normal chaotic style. The morning started with all 20 teams having to pass the BTS Golf Academy before being let loose on a proper golf course with real balls. The teams had to negotiate the four crazy golf putt putt holes, swiftly followed by the driving range and nearest the pin challenge. This being a BTS Golf Day the challenges are never normal and these tasks involved the golf balls being replaced for marshmallows. Surprisingly some of the golfers chose to keep using the marshmallows on the main 18 holes as their game suddenly improved with straighter and longer shots!
A networking lunch was rounded off with final instruction from BTS Golf Day judge, jury and executioner, Lee Dennison. The teams departed to their holes and the game was afoot. Never one to let people enjoy the game in its original pure form, the 16th hole sponsored by Creative Technology involved a shooting gallery, tequila and crossbows! What could possibly go wrong? A second watering hole courtesy of Autograph Sound at the 10th hole provided opportunity for all the golfers to pledge their 'Autographs' to champion the charity and its cause, as well as providing some custom Autographs Ales for all to enjoy while taking stock of their game. An option on the golfers 'Lucky' ticket labelled as 'Use the Force' saw a interplanetary visit from Darth Vader and Storm Trooper causing havoc with balls suddenly disappearing and ending up in bunkers, in a tree, or 2ft under water! The Dark Side moves in mysterious ways.
As the golfers headed in to tell stories of bravery and prowess with their clubs, the BBQ fired up and the beers flowed down. The evening's entertainment followed with some comic reflection of the day and then onto the awards. For the first time a three-way tie for first place came into play and 'count backs' ensued. Finally, with many fingers to count on in use, our winners were announced. In 3rd place Creative Technology 2, in 2nd place Unusual Rigging, and our 2016 champions Media Lease were crowned.
As always BTS is extremely grateful for the ongoing support from White Light, Autograph Sound, Creative Technology, Stage Technology, and Unusual Rigging for making the day a success.
With the clubs packed down and the gloves put away for another year, the charity raised over £7,000 in total. An amazing amount and a truly memorable day for all. Now the focus moves onto 16 June and the BTS KartFest.