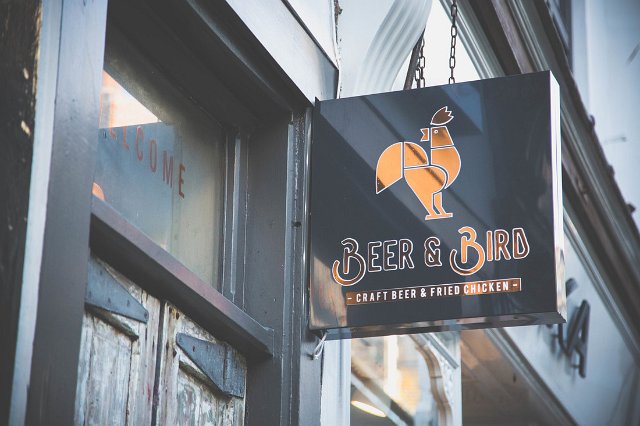 Long renowned as a home of artists and inspiring galleries, the Cornish resort of St. Ives has now discovered the art of sound with new bar/restaurant Beer & Bird the canvas for a subtly rendered sonic palette, delivered by a Yamaha Commercial Installation Solutions (CIS) installation.
Beer & Bird is an independent, family run business which grew out of John's Wines and Spirit Specialists, a long-established Cornish retailer of high quality wines, spirits, beers and ciders. Opening a restaurant where patrons could enjoy the company's drinks with delicious, locally-sourced food was a logical progression with Beer & Bird opening its doors in April 2017.
Proprietors Tom, Sam and Paul Hanson were determined that the quality of the ambience should match the quality of its fare so they approached Penzance-based Acoustic Streams, a company renowned for its high quality audio systems. "We are used to selling very high end residential systems, so when they approached us with the brief that they wanted 'something special' for Beer & Bird's background music system, we knew that we could fulfil the brief. It was just down to choosing the best solution," says Acoustic Streams' Kenny Thompson. "Being in the heart of one of Cornwall's most important tourist towns and artistic communities, they wanted to be regarded as the 'cream of the crop' in St. Ives and to make a really good impression on a wide demographic."
As luck would have it, while Kenny and the Acoustic Streams team were looking at various options, Yamaha Commercial Audio's John Perry paid them a visit. He was able to demonstrate how a CIS system would deliver the required quality, flexibility and be straightforward to install and set up. "As soon as we saw what the CIS range was capable of, we knew it was the right solution," says Kenny.
The system comprises an MTX3 matrix processor and an XMV4280 power amplifier with two VXS8 and two VXS5 surface-mount speakers plus four VXC6 and two VXC4 ceiling speakers. The system is controlled by a DCP4V4S surface-mount unit in each of four zones of which cover the bar, restaurant, lounge and entrance areas, plus Yamaha's Wireless DCP app on IOS.
"The background music is largely blues and jazz and they wanted the system to function slightly differently in each area," says Kenny. "It's an open plan space but the quality of the Yamaha loudspeakers means that the restaurant has music at a low level whereas in the bar the level is louder but it doesn't intrude. In the lounge the focus was very much on the quality of reproduction. "We found the CIS range brilliant to work with and lovely to install. The design is really well thought out from the installer's perspective, the system is easily configurable and we really like the fact that the DCP4V4S and Wireless DCP make it so straightforward to control. We've been very happy with how it has all worked out."
The Beer & Bird team has also been delighted with the installation, saying "We couldn't be happier with the system and the installation. Acoustic Streams were professional throughout and the quality of the sound is superb. We get compliments about the music every day."
"As a company we are pushing the commercial installation side of our business and are delighted to have had a positive experience with a product range that works so well for us," adds Kenny. "The Yamaha CIS range is now in the forefront of our minds and we are looking forward to specifying it on future projects."