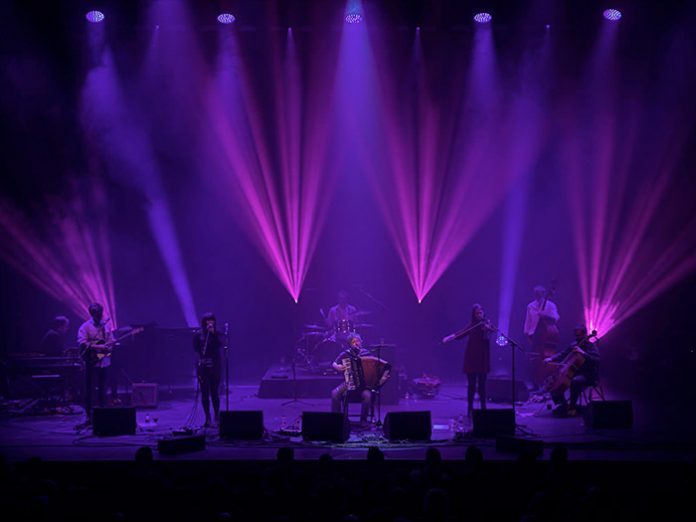 White Light was recently tasked with working on two separate large-scale projects at the Barbican Centre, Europe's largest performing arts venue. The Concert Hall needed a major upgrade of its moving light rig and control system whereas the Barbican Theatre required a like-for-like replacement of its current rig, whilst incorporating some additional LED lighting. WL's role was to not only provide the equipment but ensure that this would enhance the performances in each space and provide an unforgettable experience for the audience.
The Concert Hall's moving light rig has to cope with the variety of acts that frequent the space whilst also be suitable for its busy schedule, with a typical day consisting of an orchestral rehearsal followed by a corporate event followed by an evening concert. Jason Kew, the Barbican Centre's Technical Supervisor who oversees all of the lighting in the space, commented: "For years we have operated with a large, in-house lighting rig and this has previously been more than sufficient. However, as it was installed five years ago, it is now far behind the rapid advancements in lighting and our shows require the very latest technology."
Jonathan Haynes, WL's Business Development Manager, commented: "When I first started to look at this project with the Barbican team almost two years ago, the biggest challenge was to decide on what would be the best fixtures for the job, with reliability and versatility being the key factors. At WL, we are fortunate enough to distribute a vast range of products from manufacturers all over the world so I was able to draw on these."
As a result, Jonathan demonstrated WL's extensive lighting range and worked with the venue to select the equipment that suited their requirements. Jason commented: "I was in charge of designing the rig and, due to the Barbican Centre wanting to be as environmentally friendly as possible, this needed to be reflected in the equipment we chose. We were particularly interested in LED options due to their power yet also the fact that they have low energy consumption". The equipment purchased for the Concert Hall included 34 Clay Paky A.leda K10s, 13 Clay Paky A.leda K20s, 14 Robe Robin DL4S LED Profiles, 16 Robe Pointes and nine Martin MAC Vipers, all controlled from an MA Lighting grandMA2 light console with fader wing and RPU.
The theatre had slightly different aims and needed to augment its existing stock. Richard Beaton, Lighting Technical Manager at the Barbican Theatre, commented: "As we receive a lot of award-winning, international work, we require the latest technology to match the high standard of these shows. The more advance the lighting set-up, the more freedom and creativity the visiting artists have with their performance." As a result, WL supplied 110 Robert Juliat lanterns comprising of 2kW profiles, and a mix of 5kW, 2kW and 1kW fresnels and PCs, plus 72 ETC Source Fours with a mix of fixed focus and zoom lenses.
This recent purchase and installation is another example of a high-profile venue approaching WL to help enhance its production requirements. Jason commented: "Ultimately, this new rig is going to make concerts look more current, allow for a greater selection of styles and effects and offer a more exhilarating experience for the audience. We're extremely grateful to WL for their advice, supplying the equipment and the constant level of care shown throughout."
Jonathan concluded: "We work closely with our clients, ensuring that what we provide helps to fulfil their brief whilst offering support and guidance to help with their decision-making process. As WL continues to expand into the fields of audio and video, this approach will only grow stronger, and I am excited by the opportunities this will offer us with future projects."