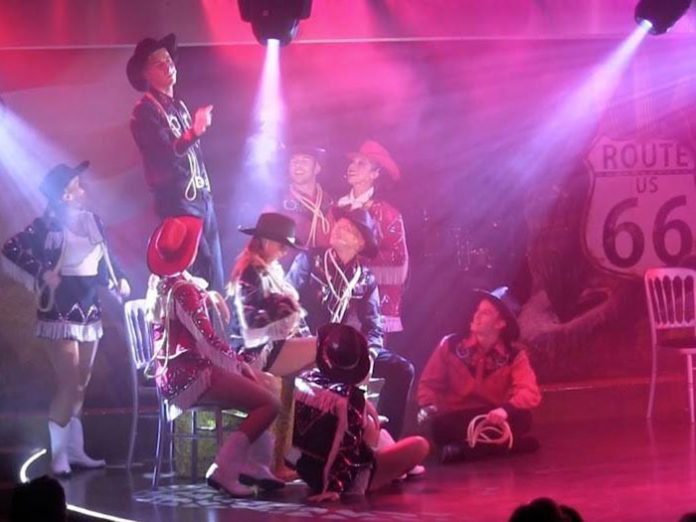 The Balmoral cruise liner has sailed through a sea of change in her distinguished 28 year history in an tireless effort to provide passengers with a memorable experience. The ship has made news by undergoing a major refit that included the addition of a large collection of LED fixtures from Chauvet Professional to its principal entertainment venue.
Mirage Productions, the on-board show company, invited Boysnoise Technologies to design, supply and install the new LED lighting rig to replace the high maintenance energy thirsty par cans in the ships that had been used in the ship's main entertainment theatre, The Neptune Lounge. Boysnoise's Phill Beynon turned to CHAUVET Professional to bring the ship's theatre shining into the 21st century, installing a COLORdash Par-Hex 12s, Rogue R2 moving spots and COLORdash Batten-Quad 12 linear fixtures.
Aside from bringing a new level of efficiency to the theatre's lighting rig, the new fixtures greatly increased the flexibility and creative possibilities open to designers charged with lightning productions at the venue. "The main show area on board the Balmoral serves to fulfil several purposes," commented Phill. "During the day the Neptune Lounge can host anything from live gameshow events to classical recitals. At night there is often a mixed programme consisting of comedians, magicians, cabaret artists or a full production show, and, of course, live music. As a result, we needed to create a lighting rig that was to be as versatile as the programme itself."
The 20 ColorDash Par-Hex 12 fixtures were installed on overhead truss hanging evenly throughout the stage. Used for general stage lighting these par style fixtures, which feature an intensely bright 120-watt hex-coloured RGBAW+UV LED light source greatly enhanced the colour rendering capabilities of the stage's lighting system.
"The Hex fixtures were a great choice as there's very little that you can't do with them," explained Phill. "While they offer a fantastic tuneable white light for general use, their varied spectrum of colours makes them perfect for a whole manner of situations. Having the UV built in means that we can flood the whole stage with UV in an instant without having to buy separate cannons or tubes. Plus, when mixed with other colours such as amber or green, they produce a kind of 'other-worldly' light that I haven't seen anywhere else."
According to Phill, the six COLORdash Batten-Quad 12s installed at the back of the stage fulfilled two major purposes. "As there was virtually no backlight before, we decided upon installing the Batten-Quad's in a long line across the back of the stage to give a general back light experience, thanks to their evenly spaced yet brightly coloured LEDs." He continued: "However, thanks to the fact that each Batten-Quad LED can be individually controlled, they are able to be programmed to add movement to the stage."
This movement is also accentuated, according to Phill, by the fact that the COLORdash battens can be used in conjunction with six CHAUVET Professional Epix bars and strips, which were already installed in the theatre by Mirage Productions. "When put together with the Epix bars and Epix strips – which fill the backdrop in a kind of starburst formation, we were able to create a magnificent wall of effects as backdrop."
Six Rogue R2 spots across the back of the stage were specifically selected to provide dramatic beam effects or highlighting for the stage. Phill said: "Before, the techs had four movers out front, but they had very limited use apart from general break-up over the stage. Now, thanks to the Rogue's, they can have strong beams cutting through haze, moving beam effects or highlighted spikes for different settings.
"We looked for a while at which moving spots to use, and in the end the R2's won out because of their vast range of features and output. The ship already had some equivalent moving light fixtures from another manufacturer on board, so the option was there to add some extras to their existing stock rather than go with a different model, but the Rogues really outshone them in terms of features and versatility."
As a result of the Boysnoise additions, the Neptune Lounge now has the tools to put on the best productions to rival any on-land theatre. Thanks to CHAUVET Professional, Mirage Productions were able to adhere to the ship's restricted budget, and, perhaps most importantly, the ship's guests now can be treated to fantastic productions. Phill concluded: "We have received so many comments specifically about how good the new lighting was from the passengers in the audience, who we wouldn't normally expect to notice specifically, let alone go out of their way to say thank you."