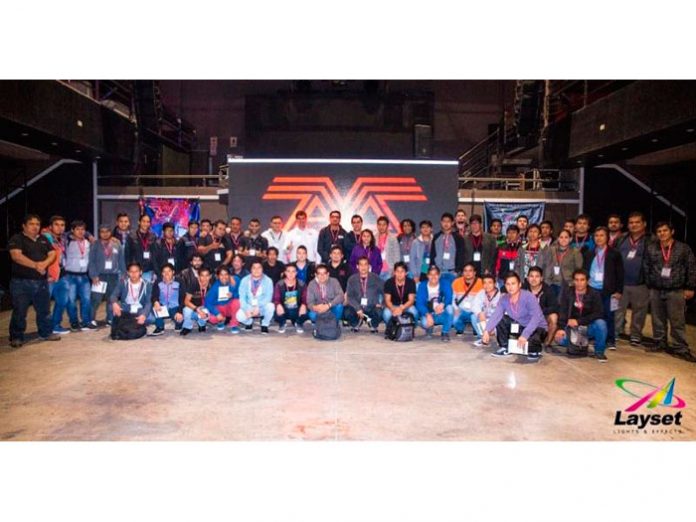 Avolites, the British manufacturer of intelligent media control solutions for the entertainment industry, is expanding into South and Central America – further to a significant sales and training tour in the region.
Avolites Sales Engineer Javier Pastor has just returned from a hugely successful, whistle-stop tour of seven countries in just four weeks. Following a rigorous schedule packed full of meetings, TV and radio appearances, presentations and training sessions, Pastor met with Avolites' key audio-visual equipment distributors in each state: Integraled in Mexico, Layset in Peru, Rojo Audio e Iluminación in Bolivia, Estudio DJ in Paraguay, Sysdey in Uruguay, Valook in Chile and TSD Group in Argentina.
With over 50 deals already secured – including with the two main TV channels in Mexico, Televisa and TV Azteca – the company is keen to consolidate this impetus and grow sales in Latin America's burgeoning market. Over the last five years the region's economy has been relatively slow, but now there are definite shoots of growth. Accordingly, Avolites has put together a business plan to become Latin America's leading lighting console brand within the next two years. All the 69 training modules of its fast and powerful lighting control interface – Titan – are currently being translated into Spanish, to support the many language options already available within the console.
"Festivals and music play an integral role in Latin American culture and our developments in Titan have also allowed us to grow in the Installation, Film & TV, and theatrical markets. When money becomes available, individuals and larger companies prioritise investment in entertainment technology – to enhance celebrations and carnivals. For Avolites, this presents a fantastic opportunity," comments Pastor.
"Even though we had not previously undertaken any marketing or sales activities locally, Avolites was already a hugely respected and beloved brand in Central and South America. So word-of-mouth laid solid foundations for our tour.
"Our strategy is to conquer the market from the bottom up, doing a lot of work on the ground with the people distributing and using the products – and getting their feedback. That is the Avolites way. We base our product development around customer feedback and ideas when designing the next generation of an existing product or bringing out a new one.
"The training sessions we organised on our tour were a massive hit. I was blown away by the audiences' palpable sense of excitement. In Mexico alone over one hundred audio-visual specialists came to hear first hand about the new and most pioneering features of the tenth and latest version of Titan – we plan to return to the region annually and build upon this incredible reaction to our products."
Francisco Yañez Valdivia, Avolites' recently appointed regional Sales Representative for Latin America, says, "On this visit to South and Central America, Avolites has demonstrated how important this continent is.
"The closeness between Avolites and its users and distributors is not something many brands enjoy. We are like a community of people who talk about our love of lighting. There is a community forming in social networks, mainly around the Facebook fan page Avolites en Español and the Instagram Avoliteslatino. It's incredible to see how, day by day, more people are sharing their experiences, asking questions, sending photos and becoming part of our community.
"In terms of popular products here, undoubtedly, the Arena console is getting a lot of the attention – although the small and powerful Quartz is also desired by many users. The incredible control that the Sapphire Touch allows for live programming, with its two screens and the huge amount of motorised faders, is something else that always stands out.
"The video content designers and technicians who attended Javier's presentations showed a lot of interest in how the Ai media servers and software, integrated with Titan control, can be used to create incredible visuals. From the feedback we received, we're confident we are about to see a significant boost in demand for Ai in this region too."
Koy Neminathan, Sales Director of Avolites says, "Having Javier based in the UK working alongside Francisco, who will reside in Chile but travel throughout South America, is a very positive set up for Avolites. We have always wanted a dedicated Spanish/Portuguese speaker 'on the ground' to assist our distributors in educating and supporting our users."
Neminathan went on to state that, "Francisco brings a great wealth of knowledge and experience and he is already underway in visiting lighting designers and demonstrating the power of Titan and Ai.
"To say that I am excited is an understatement, because this marks another huge step in the right direction, in line with our strategy for South and Central America."