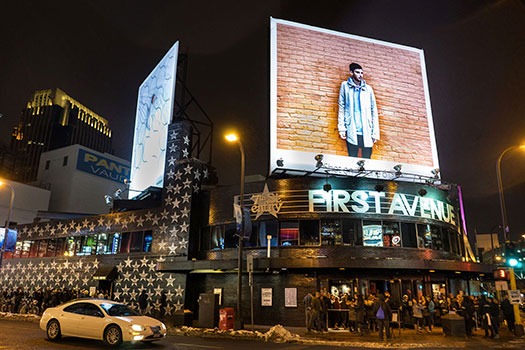 First Avenue has been a staple of the Minneapolis music scene for closing in on half a century. Originally opened as a dance club in 1970, the club exploded into public awareness outside of the Twin Cities in the mid-'80s when it served as the setting for most of the live performances in the Prince film Purple Rain.
Although the venue still waves its "old school" flag proudly in many respects – the audio consoles are both decidedly analogue – the visual experience there is as cutting edge as it gets. This is due to a recent update to an all-LED lighting system controlled by a new Avolites' Arena console replacing the club's workhorse Avolites Pearl 2004 desk.
Paul Donahue, owns and runs Dynamic Smart Light (DSL), a production and lighting company in Minneapolis, and has been illuminating the First Avenue stage as the house lighting director for the past eight years. He's also been an Avolites user with DSL for three decades. The move from the Pearl 2004 to the Arena, supplied by Metro Sound & Lighting and set up and patched with assistance from MathStatic's Max McDougall, leapfrogged several generations of consoles bringing many long overdue capabilities.
"Even something as simple as memory," Paul stated. "We can store all of our regular shows in the console now. Before we used actual floppy disks. Another step up for us is touchscreens. They've really enabled some great control over palettes that we just did not have before."
But, crucially, the Arena bridges the gap between old school consoles and current tech by offering not only touchscreen control but also 40 faders for significant live control as well as ease of programming. "First Ave is a busy venue, and it has been that way since I started coming here 30 years ago," he recalled. "We would have The Replacements one night, a world beat act the next, and then Motörhead. And then the next night might be disco or something else altogether." That vibe is still in place today with the club hosting a solid mix of alt-rock and more dance-oriented and hip-hop fare.
Given that kind of variety, the requirements for a new lighting console had to cover a broad range, and the Arena fits the bill perfectly. "It's a 50/50 mix of bigger acts who often have their own lighting guy and bands that don't carry anything and rely on us. So, I get a lot of hands-on fader time, but the console had to be really friendly for visiting lighting directors as well. And between the Titan and Sapphire series, pretty much everyone has used and is comfortable with an Avolites workflow – even if that is not what they use every day." Like many club environments with lots of one-off shows, setup time can be precious and there is no margin for a visiting lighting director having to learn something foreign on the spot.
"I love the Arena because it has a lot of faders," Paul explained. "Some people started making consoles with no faders, and then you would have to add some kind of control wing, and I never wanted that. I want a lot of faders and the ability to throw anything anywhere."
Not that the touchscreens and some of the advanced features don't get their share of love. "The Key Frames Shape generator is really cool," he added. "One of the great things about LEDs creatively is that you can have colours running through colours. So you can have all blue lights up and then have red just seep through and scroll across the blue. And the Key Frames Shape Generator lets you see that and manipulate it visually on the touchscreens.
"With the combination of touchscreens and lots of faders, the Arena is perfect for the kind of one-off shows we do here at First Avenue." he concluded.