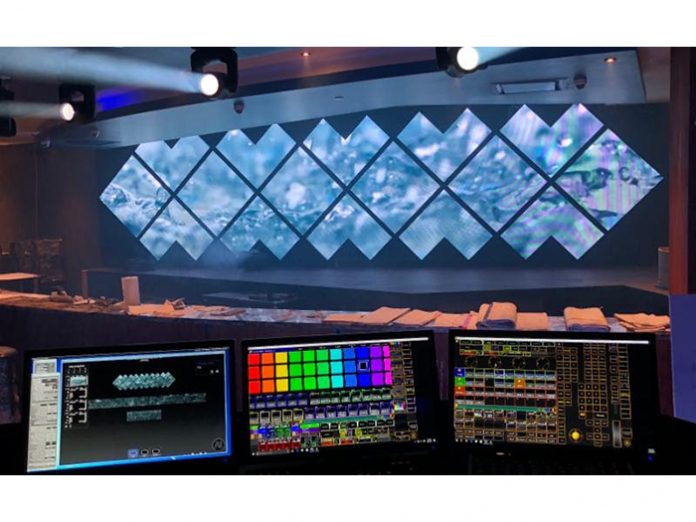 One of Florida's hottest new nightlife venues boasts three state-of-the-art LED-lined spaces controlled by one Avolites Ai's Miami Licence dongle.
The new Martini Bar is situated just a short hop from Miami International Airport in the 'CityPlace Doral' retail and entertainment complex. It offers guests two separate environments – a nightclub and an outside lounge.
Upscale entertainment lighting experts idesign Productions served as the speciality lighting and video designers for the project. Owner and lead designer Michael Meacham worked with the idesign team to create a diamond-shaped LED wall upstage, a LED-lined DJ booth and a large LED façade for the external lounge.
"The Martini Bar's owner, Joe Delaney, allowed us to have creative freedom for the spaces. We wanted a unique design that brought the rooms to life, rather than a usual video screen shape," said Michael.
"In addition to creating the unique video screen layout, we designed a cohesive package that includes intelligent lighting, pixel ceiling lighting and custom vertical LED strips surrounding the front face of the inside and outside bars."
The Martini Bar promotes itself as a 'contemporary experience of nightlife entertainment with a blend of gourmet American cuisine' which 'achieves the perfect nightlife synergy by providing live entertainment, world class DJs, and original works from its performing artists.'
"We needed video capabilities that would best showcase the video features installed in the three areas, especially in the larger LED wall with its multiple zig-zag-shaped screens," Meacham continued.
"We know that Avolites' Ai Miami dongle has the ability to power multiple outputs and unique LED mapping capabilities, which suited our project perfectly. The Ai Miami dongle provided a cost-effective, simple yet powerful solution. With several media server options available, we knew that the Miami dongle was exactly what we needed for Martini Bar."
idesign's Ben Sahagun and Michael Meacham worked with Ruben Laine of Avolites' US partner Group One to provide the best video solution and programming capabilities.
"The Ai Miami Licence was perfect for this project – the team wanted to control the video content via Art-Net and MIDI using three outputs," said Ruben. "Ai Licences are an incredibly versatile tool, offering the same feature sets as the Ai servers but allowing you to save money based on the number of outputs that you need. This is particularly useful for some installation projects where users may only need one or two outputs and the box doesn't need to be as rugged as a touring server."
idesign created all of the content for the Martini Bar's three video walls, delivering psychedelic and colourful visuals designed to make the Martini Bar in the city of Doral a must-experience nightlife destination.
"The Miami Licence is our 'unlimited' or top-level licence, and I guess people are often surprised by how unlimited our interpretation of unlimited is," Ruben continued. "Outputs, canvas size, incoming and outgoing signals… Ai is an incredibly powerful media server, the Salvation Engine behind it allows you to customise your experience, from altering how individual features work to enabling any plug and play devices to be detected and utilised by Ai."
Due to the LED screens being a permanent installation, with premium finishes to the bars and walls, all of the video walls needed to be wired and installed months in advance of the opening date.
"As with many projects, the main build met with some issues that in some cases would have required tens of man hours in order to replace and rewire, but thanks to the versatility of Ai's Output Page and mapping tools, we were able to come up with a simple workaround," Ruben explained. "Ai's versatility ended up saving our client a lot of time and money! The results are fantastic."
The venue is now open to the public. The project was managed by Holmes Ives alongside the idesign install team of Scott Maccarone and Michael Suarez, and idesign lead programmers Ben Sahagun and Michael Meacham.