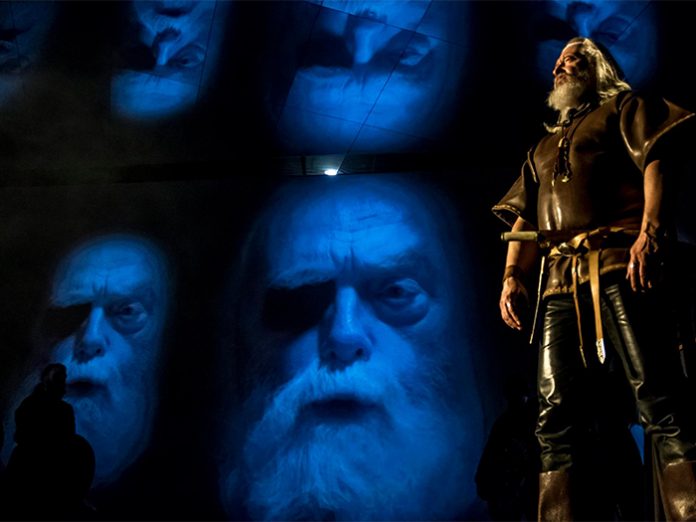 Waterford recently held its inaugural International Viking Festival with a spectacular Viking Roadshow – two 45-minute theatrical performances, which took place in the city centre.
John Grubb, managing director of the outfit, recalled how they approached the project: "We needed an exceptional technical and production service provider on board to complement this world-class production – and we chose Corporate Audio Visual Services (CAVS), a trusted partner of ours, to help us deliver. As the equipment and AV consultants, CAVS worked closely with us and the artistic team in marrying the site and production to make sure it was every bit as good as the original run in Copenhagen."
Providing all technical equipment, CAVS had a central role in specifying the equipment, which would be up to the rigours of such a high profile event. On the visual side, CAVS' visual technicians John Parsons and Eoin "Chip" Devit selected two Barco HD 20k Flex and three Barco RLM W12 projectors; CAVS' sound engineer Trevor Roycroft opted for 15 L-Acoustic Kiva II, eight SB15M, four LA8, one Midas Pro 1 for the audio setup while lighting technician Nigel Lombard selected six Robe BMFl, eight Robe Robin Spiider, six S4 Profiles and 10 CP62 Par Cans for the lighting gear.
CAVS also opted for two AV Stumpfl Wings Engine Stage media servers – allowing for total control and flawless execution of the overall production.
AV Stumpfl's Wings Engine Stage is a technologically advanced media server system featuring a solid hardware platform; automatic camera based soft-edge and warping calibration, as well as DVI/3G-SDI Live inputs and virtually no resolution and content limitations. Horst Damoser, AV Stumpfl's global business development manager, remarked: "Whether as part of live events, corporate presentations or themed installations, the wide ranging feature set combines hardware reliability with software flexibility – a perfect answer to complex productions such as this one."
Eoin Sheridan, production manager at CAVS and technical manager for this project, said: "We have been using AV Stumpfl's Wings Engine Stage for four years now, recently upgrading to the new Wings RX Vioso software. Its flexibility enables us to do a lot more live editing and programming, so it is perfect for the corporate side of our events. We are huge fans of the product."
A project of such magnitude is never without its challenges, Eoin exlained: "The client required the ability to skip through the show for rehearsals whilst having markers for certain parts." He concluded: "AV Stumpfl's Wings Engine Stage makes it very easy to do, and very simple to set up compared to other media servers. We also had very little dark time because of where the performance was being staged. The ability to blend the projectors and then convert back to manual using the Vioso camera calibration was a great help in turning around the blending process quickly."