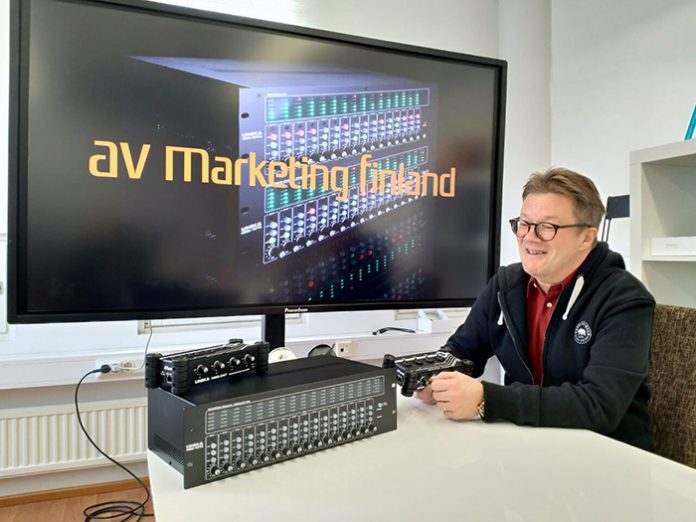 Mega Audio GmbH has named audiovisual Marketing Finland Oy the first EU territory-distributor for the UNiKA Pro range of DANTE I/O break-in, break-out boxes. Audiovisual Marketing is established as supplier of premium audiovisual brands to the Finnish market and UNiKA Pro now joins Merging Technologies, Martin Audio and LynxStudio in AV Marketing's growing Pro Audio portfolio. The UNiKA Pro DANTE range comprises the NBB-04R, 96KHz 4-channel receiver, NBB-04T 96KHz 4-channel transmitter and the flagship 192KHz NBB-1616 16-channel I/O with an associated NBB-1616e 16-channel expander. Specifications include 24dBu max input or output level, uncompressed 24-bit PCM encoding and programmable mic pre-amplifiers with 132dB dynamic range.
Jyrki Makinen, Audio Product Manager at AV Marketing commented: "AV Marketing Finland is an experienced provider of presentation equipment but in order to serve the customer base more effectively we needed to expand our audio portfolio. While investigating the market, UNiKA came up in conversation with one of my long-time industry contacts and it was immediately clear to me that this was not a "me too" DANTE I/O range. Audio is of the highest quality and, while most DANTE products rely on network-only control, UNiKAadditionally provide old-school, front-panel knobs and switches. This makes UNiKA very easy to use. My customers will like this!"
Burkhard Elsner, CEO at Mega Audio added: "UNiKA Pro has built a solid reputation in Asia but is all-new to Europe and early adoption by respected distributors with enthusiasm, experience and expertise is so important. AV Marketing Finland ticks all those boxes and Mega Audio and UNiKA Pro are very excited to be working with Jyrki Makinen and his team to introduce this unique, high-end range to discerning professionals in Finland. It's a busy market out there and we are very grateful Jyrki took the time to find us.