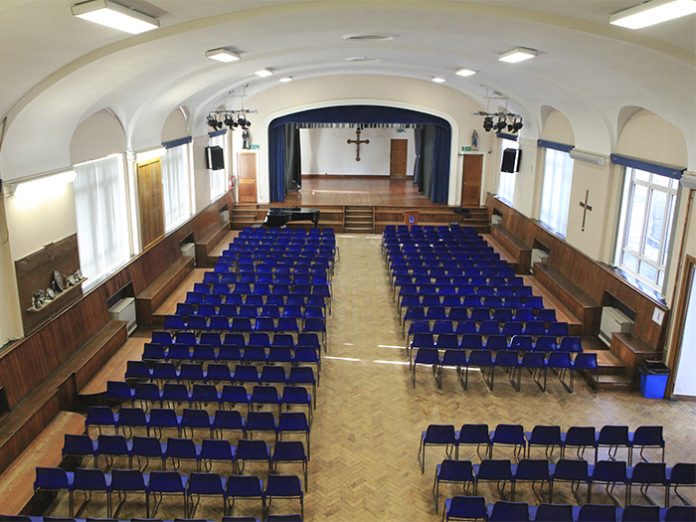 Founded in 1903, the Ursuline Academy in Ilford is a Catholic comprehensive school for girls aged 11-19.
The school's business manager, Karen Bevan, recently conducted a review of the facilities and concluded that the school's AV provision was in urgent need of attention. The systems in place had become outdated.
CIS now has installed a QSC audio system based on two QSC-15 speakers, QSC GX7 power amplifier and QSC TouchMix 30 PRO mixing console. The E15 is trapezoidal, two way loudspeaker intended for applications where high power and rich low end are required, making it ideal for the varied demands of an education setting.
The TouchMix-30 Pro is QSC's feature-rich, flagship console – part of the world's most powerful small-format digital mixer series. The availability of wizards, presets and other helpful tools assists users to go beyond simply mixing, whilst its operation is intuitive and therefore quick to assimilate for audio professionals and novices alike. Compact, robust and affordable, its selection again chimed perfectly with the requirements of a school setting, where flexibility and ease of use are required. Audiologic supplied bespoke stage boxes by Quartex.
An Ecler DN44BOB break out box was used to facilitate a two way audio link over single CAT5 cable to and from the balcony at the rear of the hall, whilst at either side of the stage an Ecler WPmMix-T wall panel micro mixer offered an optional and backup input connection for a wired microphone, laptop or mobile device – facilitating a very quick and simple alternative set-up for assemblies and presentations.
Two Shure QLXD24/SM86 handheld wireless and two Shure QXLD14/150/C lavalier wireless microphone systems complemented the system for use across a range of applications. Shure is synonymous with high audio quality and these systems are robust and easy to set up, once again meeting the brief and budget without any compromise.
An important requirement was the facility to project the performance of the school's exceptional choir. Audiologic recommended two Sennheiser K6 Microphone Powering Modules with cardioid ME64 heads. When required, these could be used with two heavy duty steel Samson SB100 studio boom stands, adjustable to over 12 feet in height, enabling accurate and stable positioning.
A Denon DN300ZB CD/Media player with Bluetooth/USB/SD/Aux and AM/FM Tuner and DN500BD Blu-ray player completed the picture, between them offering easy-to-use technology covering every playback requirement.